TRIAZ
Imagine having instant access to the greatest library of drums ever created. Being able to intuitively layer sounds in a new, truly unparalleled way. Having a beyond visionary way of sequencing beats. How about instantly generating new ideas? Or being able to create drums equal to the best records in the world – out of the box.
Introducing TRIAZ.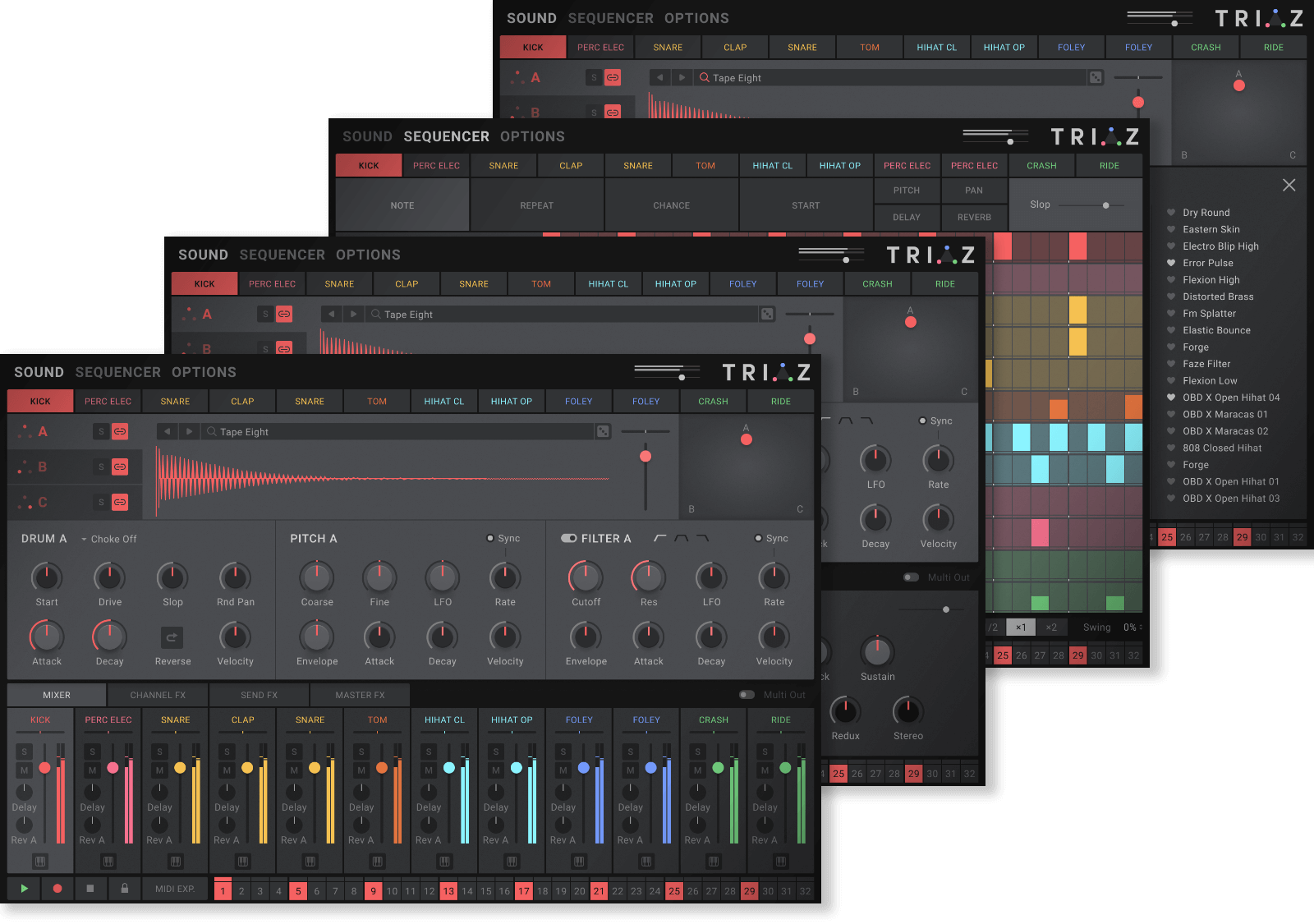 Explore TRIAZ
Take a deep dive into TRIAZ…
Next Level Drums
TRIAZ is a forward-thinking drum machine driven by a diverse and creative library of all-new modern electronic and acoustic drum sounds, percussion, and sound design tools; Comprising over 10,000 samples and 600+ instantly playable presets created using an extraordinary array of drum machines, acoustic drums & percussion, modular synths, found sounds, studio tools, Foley and more.
TRIAZ delivers a powerful 3-Layer Drum Engine with a compelling interface and creative user workflow. Polyrhythmic, organic Drum Sequencing allows you to create beats with real swing and groove that never repeat the same way.
Extensive sound design parameters, linkable or per layer, are both powerful and streamlined for lightning-fast workflow. Tag-based dynamic sample browsing, drag and drop sample import, creative kit randomization and a powerful Effects System provide an unmatched workflow for modern drum production.
Listen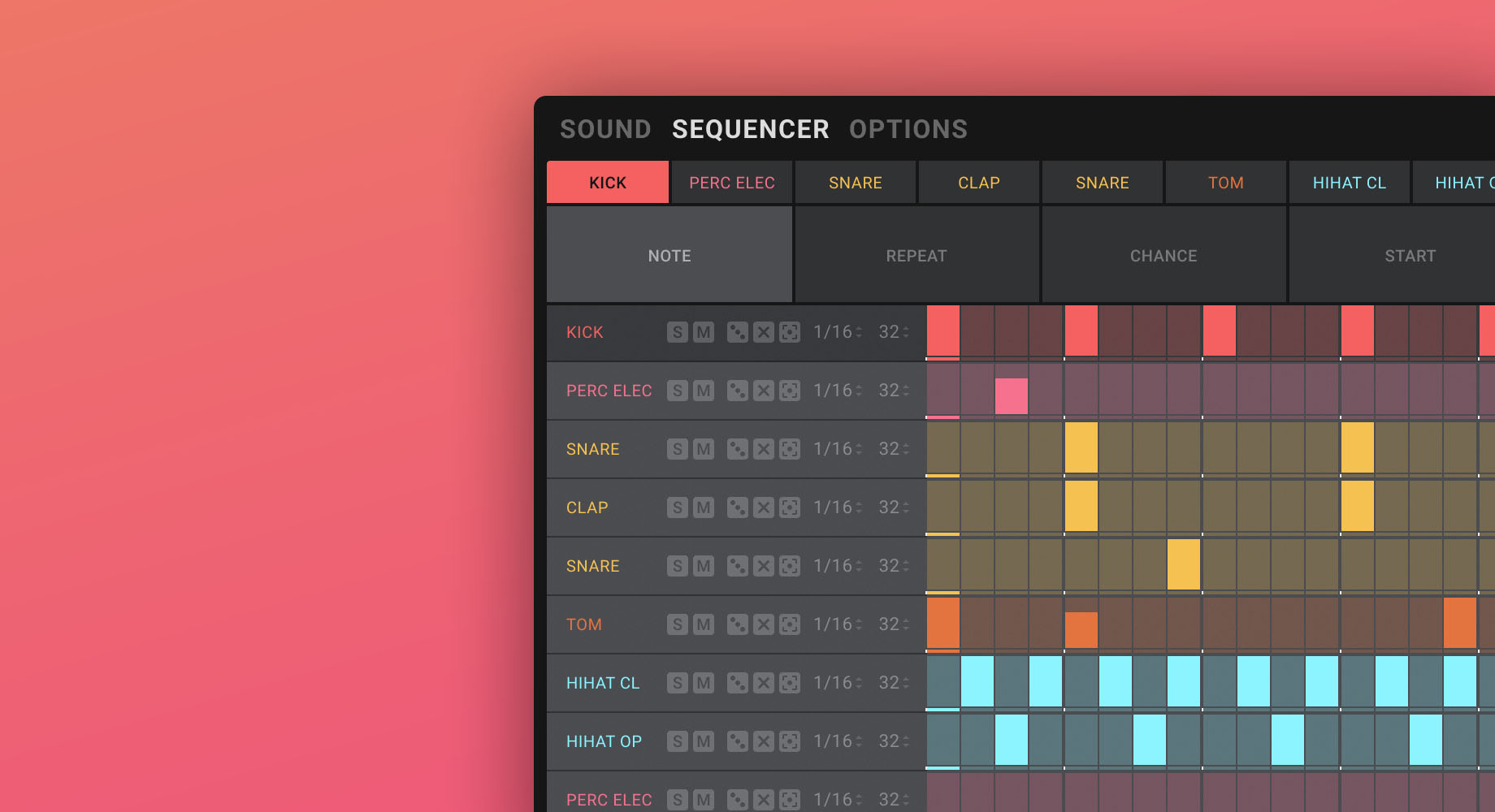 Tweak
Easily browse and dynamically load any of TRIAZ's 10,000 drums (or import your own!) into any of its 12-Voices or 3-layers using a dynamic tag-based browser. Take things further with extensive sound design parameters; filters, envelopes, reverse, LFOs, tone-shaping controls, modulation, FX and much more. Per Layer…
Next level drum layering
Drum layering is critical in modern music production and TRIAZ makes this process effortless and fun. Intuitively blend multiple drums with TRIAZ's unparalleled layering engine and XY Pad for instant results that sound sublime, every single time.
Want to blend a gritty acoustic snare with a modern stacked clap and velocity sensitive vinyl noise? How about layering a tape saturated 808 sub with the transient of a marimba and the body of a crushed acoustic bass drum? Or stacking 3 cymbals for a huge unison sound? Anything is possible.

Sequence
Sequence, randomize and loop with TRIAZ's expressive Polyrhythmic Sequencer. Each Voice can be sequenced independently with its own playback rate and step-length; providing all the tools you need to create modern drum patterns with ease.
Global randomization can instantly be introduced into the sequencer's groove to humanize your drums.
Re-imagine everything from full-length drum patterns, short loops and drum fills to non-traditional time signatures, complex, evolving polyrhythms and impressive organic beats. Go off and back on the grid with ease and export as MIDI to your DAW when you're done.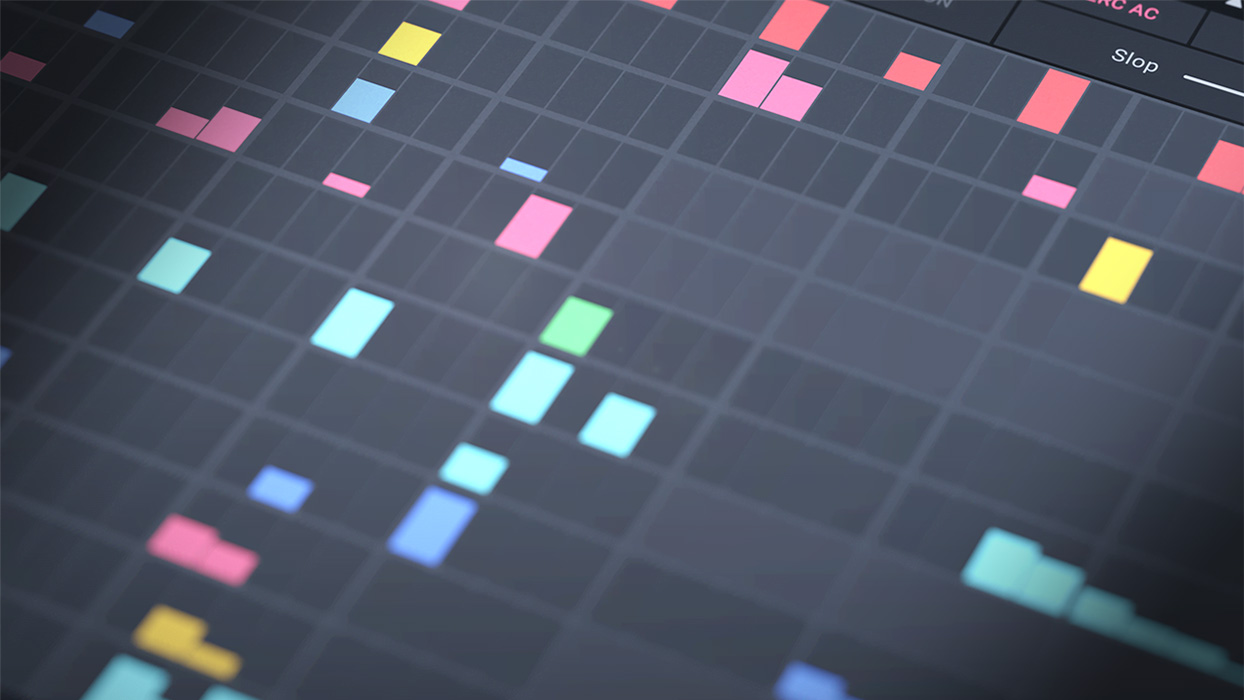 Repeat
Add movement to your beats with repeats, fills and stutter – available per drum, per sequencer lane.
Timing
Each step goes beyond standard velocity sequencing – including probabilistic chance and start offset for organic beat humanization.
Effects
Sequence Pitch, Pan, Delay and Reverb per step and get creative with TRIAZ's step-lock parameter sequencers.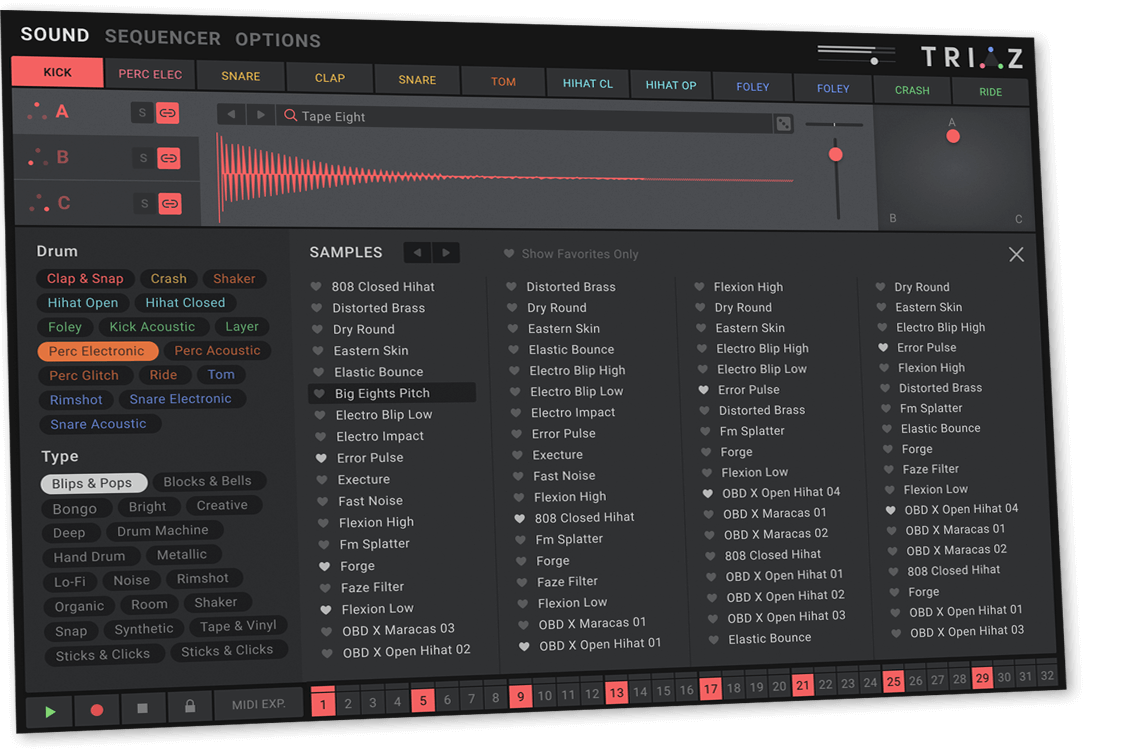 Drums Redefined
TRIAZ's Sound Engine combines beautifully designed electronic drums and acoustic instruments in a ground-breaking new way. A labour of love with a profound level of detail, made by producers for producers.
The included sound library is undoubtedly our best collection of drums to date, spanning 3 years and thousands of hours of sound design; combining modern electronic drums, creative sound design, Found Sounds & Foley, designed acoustic drums, the rarest drum machines, grittiest modular synths, live percussion & ethnic drums, mallets & sticks, epic cinematic percussion and much more.
All drums were recorded and designed at the most revered recording studios in the world, using only boutique high-end analogue processing and mastering grade conversion. To top it all off you get access to every sound as a wav file to use any way you like. Unlike other instruments nothing is hidden behind proprietary formats.
TRIAZ delivers every drum sample you'll ever need. No subscription required.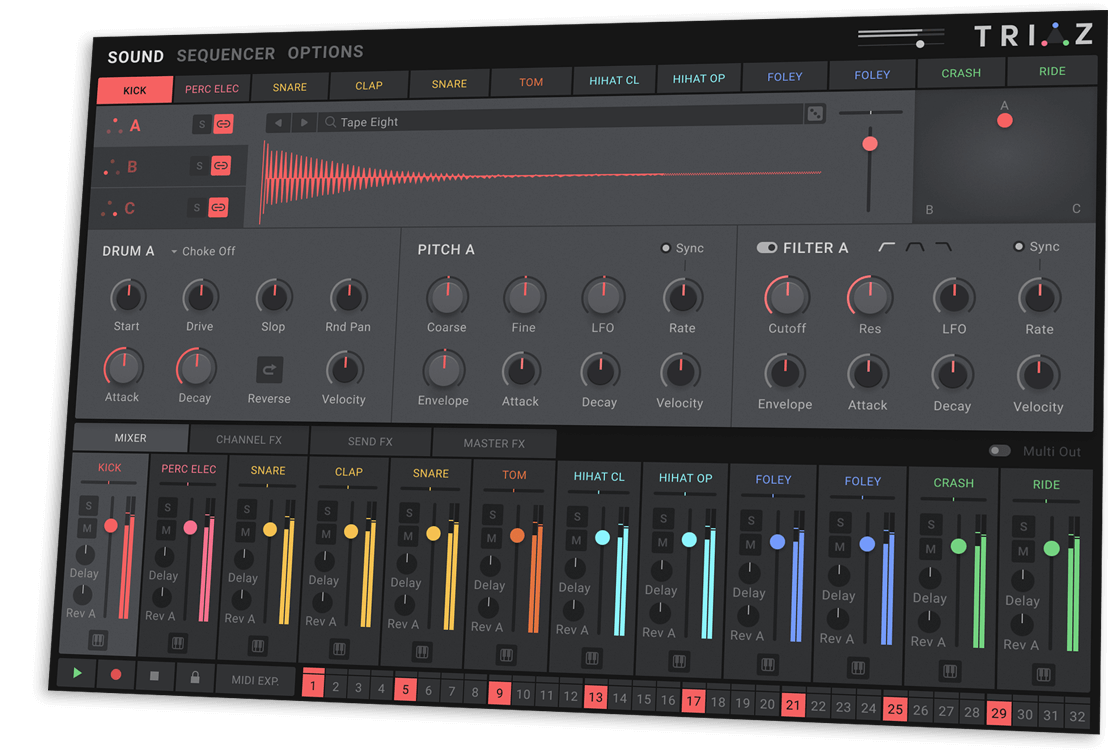 A cheat code for modern drums
Take your drums to the next level with 600+ beautifully crafted, production-ready presets covering all modern genres – designed by world-class sound designers.
You won't find typical, stale two-bar sequences here, the focus is evolving, organic production ready beats that instantly spark creativity and fit into any modern record.
Generate infinite ideas instantly. Creative randomization features let you build new drum kits at the click of a button – select a preset and instantly change it into something brand new and immediately usable.

Creatively effect
A custom Effects section boasts 5 Insert Effects, 5 Master Effects, and 3 Send Effects.
Creatively effect your drums with TRIAZ's versatile effects suite, featuring plate reverb, analogue-style delay, and 40 high-end custom reverb impulses from sought-after reverb units and lush real-world spaces and acoustic drum rooms.

Enhance
Twist sounds into oblivion using the analogue-style delay, enhance tone and character with compressors, EQ and transient shaping. Want to dirty things up even more? Try TRIAZ's unique Shaper section to introduce variable noise (vinyl noise, tape hiss, cassette, and more), tape saturation and more…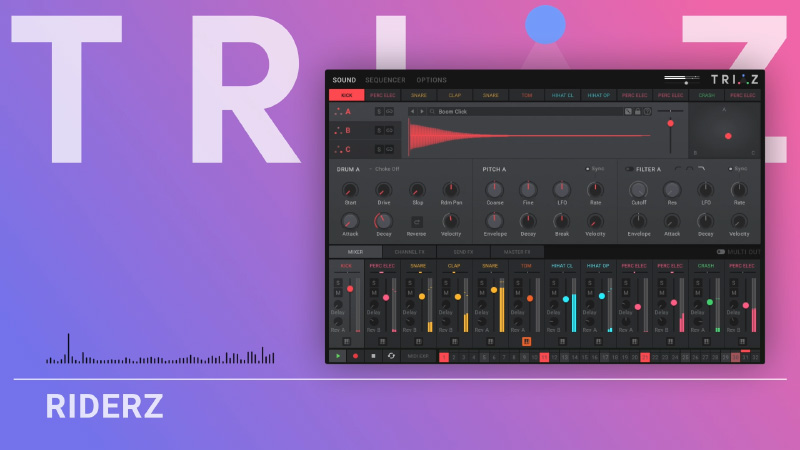 Presets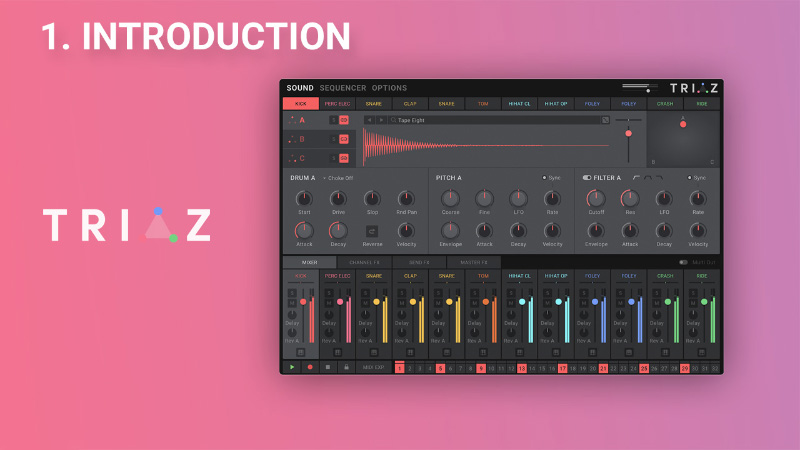 Intro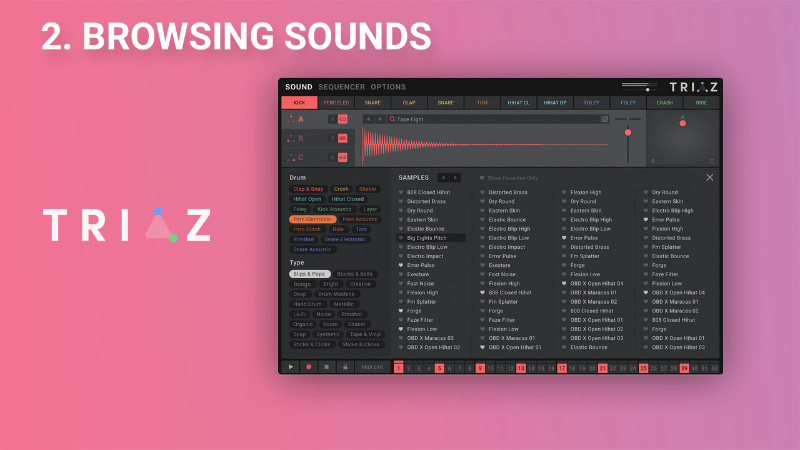 Browser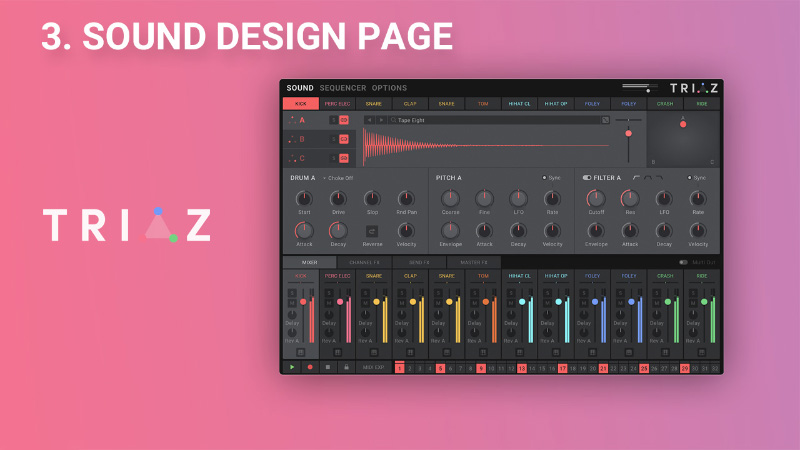 Sound Page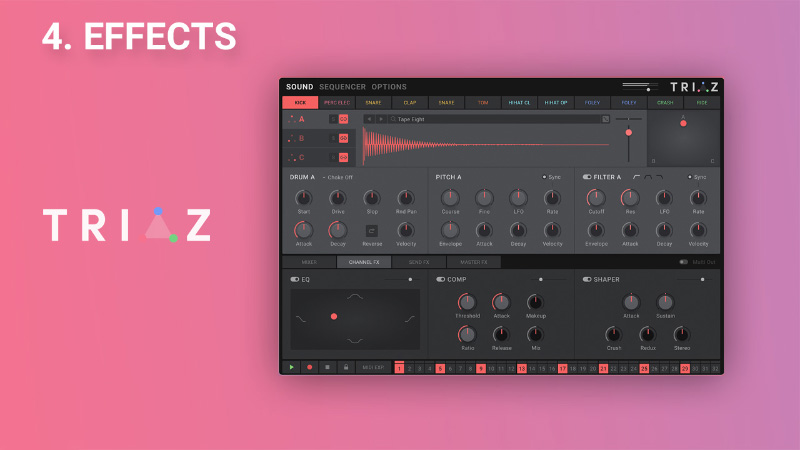 Effects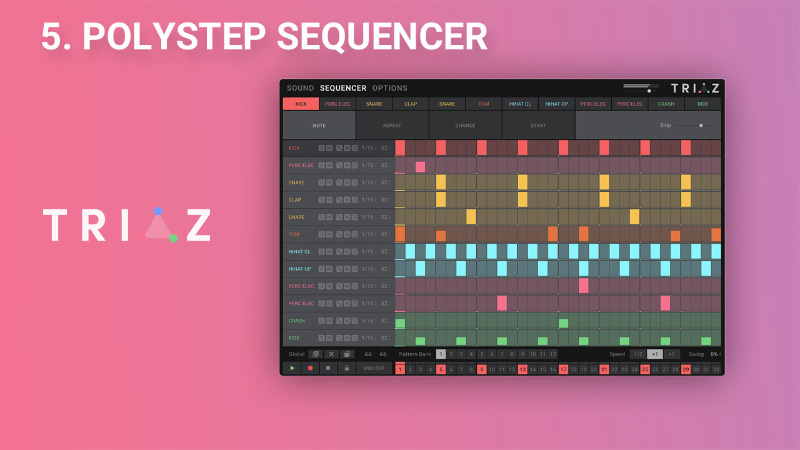 Sequencer
In the Press
What people are saying about TRIAZ…
"TRIAZ sounds wonderful! It's obvious a lot of care and attention has gone into both the sound selection and the interface. Well done!"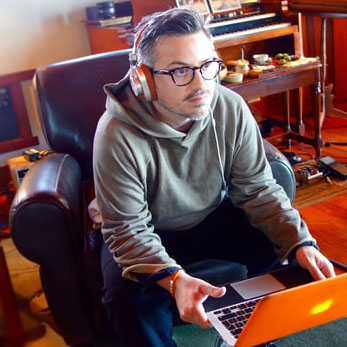 "The superb TRIAZ library is a triumph. It's by far the most sophisticated Wave Alchemy instrument to date…"
"TRIAZ really is a cracker of a drum machine: finding, shaping and sequencing sounds is all easy and the results sound fantastic. It's what I've always wished NI's Battery could be…"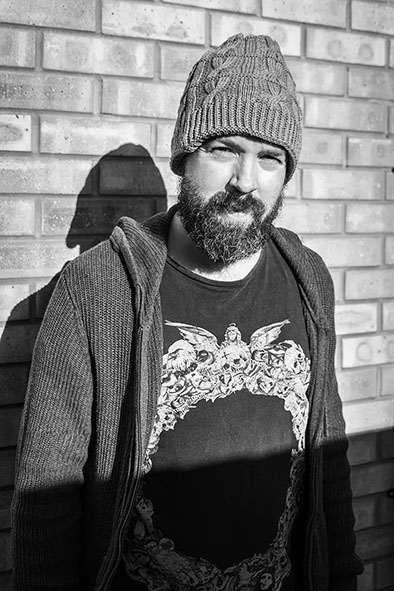 "Drums play a crucial role in modern music production. Our goal with TRIAZ was to create something that instantly sparks creativity whilst at the same time delivers a lightning-fast workflow – one that meets the needs of every producer, from the total beginner, to the advanced sound designer.
More importantly, we wanted to create the best library of drums ever to exist – a product that delivers impeccable quality sounds on par with the biggest records in the world – instantly, out of the box. – something we feel is very much missing in other software drum machines. With TRIAZ, not only do you get access the most diverse and high-quality drum samples ever imagined, but you also get to manipulate, sequence and perform with them like never before."
Dan Byers
CEO Wave Alchemy
Available in Standalone, VST, AU and AAX formats. TRIAZ is powered by FREE Kontakt Player from Native Instruments. Full version of Kontakt is NOT required
Innovative Drum Engine driven by a diverse library of all-new modern electronic and acoustic drum sounds, percussion, and sound design tools
600+ beautifully designed, production-ready presets for modern music
Intuitively layer drums in a new, truly unparalleled way using the visual XY Pad
Expressive 32-step Polyrhythmic sequencing with independent playback rate and step-length. Per Lane
FX parameter sequencing for Pitch, Pan, Delay and Reverb. Per Lane
Introduce variable groove humanization and organically varied movement to your beats with Sequencer Slop
Sequencer note repeat / stutter, probabilistic chance and start offset. Per Step
Import your own samples via Drag + Drop
Creative randomization features let you build new drum kits at the click of a button – select a preset and instantly change it into something brand new and immediately usable
Create drums that sound as good, if not better than those on hit records – instantly, out of the box
Dynamic sound source browser with intuitive tagging and favourites system
Extensive sound design parameters; filters, envelopes, reverse, LFOs, tone-shaping controls, modulation, FX and much more. Per Layer
Channel FX and master bus processing featuring high-end compression, master EQ, creative noise engine and tape simulation
Creative Analogue Slop controls simulate the random behaviour and character inherent of analogue instruments. Available per Layer
Play any sound over a 2-octave range of pitch to create musical percussive rhythms, pitched tom fills or anything in-between
Creative effects suite; plate reverb, analogue-style delay, and 40 high-end custom reverb impulses from sought-after reverb units and live spaces
MIDI drag + drop sequencer patterns directly to your DAW
Multi-Output support
Master bus processing featuring compression, master EQ and tape simulation
Dedicated visual Mixer with individual volume control, pan, and effects sends for each Voice
Host automation for all important sound design parameters
Seamless Integration with your DAW
NKS Ready
Maschine 2 integration via Maschine group file
3GB in size after unpacking
Mac
Supports Apple Silicon Macs (natively on ARM) on macOS 11 or newer
Supports Intel Macs (i5 or higher) on macOS 10.15 or newer
Runs in Kontakt (Free) Player
Windows
Supports Windows 10 or newer
Recommended minimum Intel Core i5 or equivalent CPU, 2 GB RAM
Runs in Kontakt (Free) Player