15 Iconic Synths
15 iconic vintage synthesizers, 10,000+ samples and 185 unique patches; each expertly programmed and creatively combined into a single unified, powerful virtual instrument.
Introducing Spectrum for Kontakt – The hybrid waveform synthesizer that delivers endless inspiration…
A full version of Native Instruments Kontakt (version 5 or higher) is required to use Spectrum.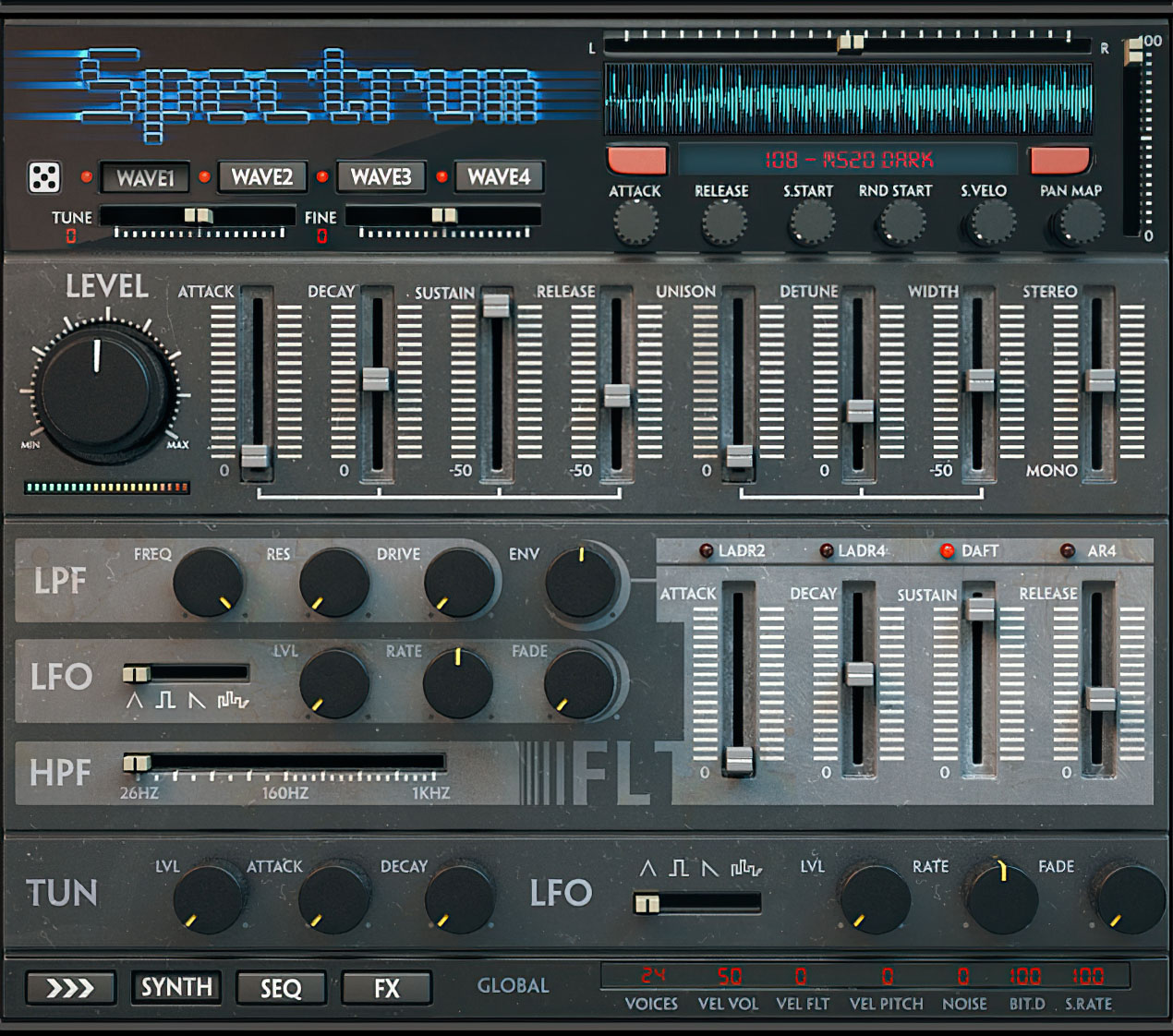 Program
4 powerful oscillators are loaded with 185 characterful multi-sampled 'waveforms', which can be layered simultaneously and transformed into oblivion with Spectrum's editing and processing parameters.
Get creative with a wealth of powerful analogue-modelled effects, filters, envelopes, LFO's and waveform editing tools.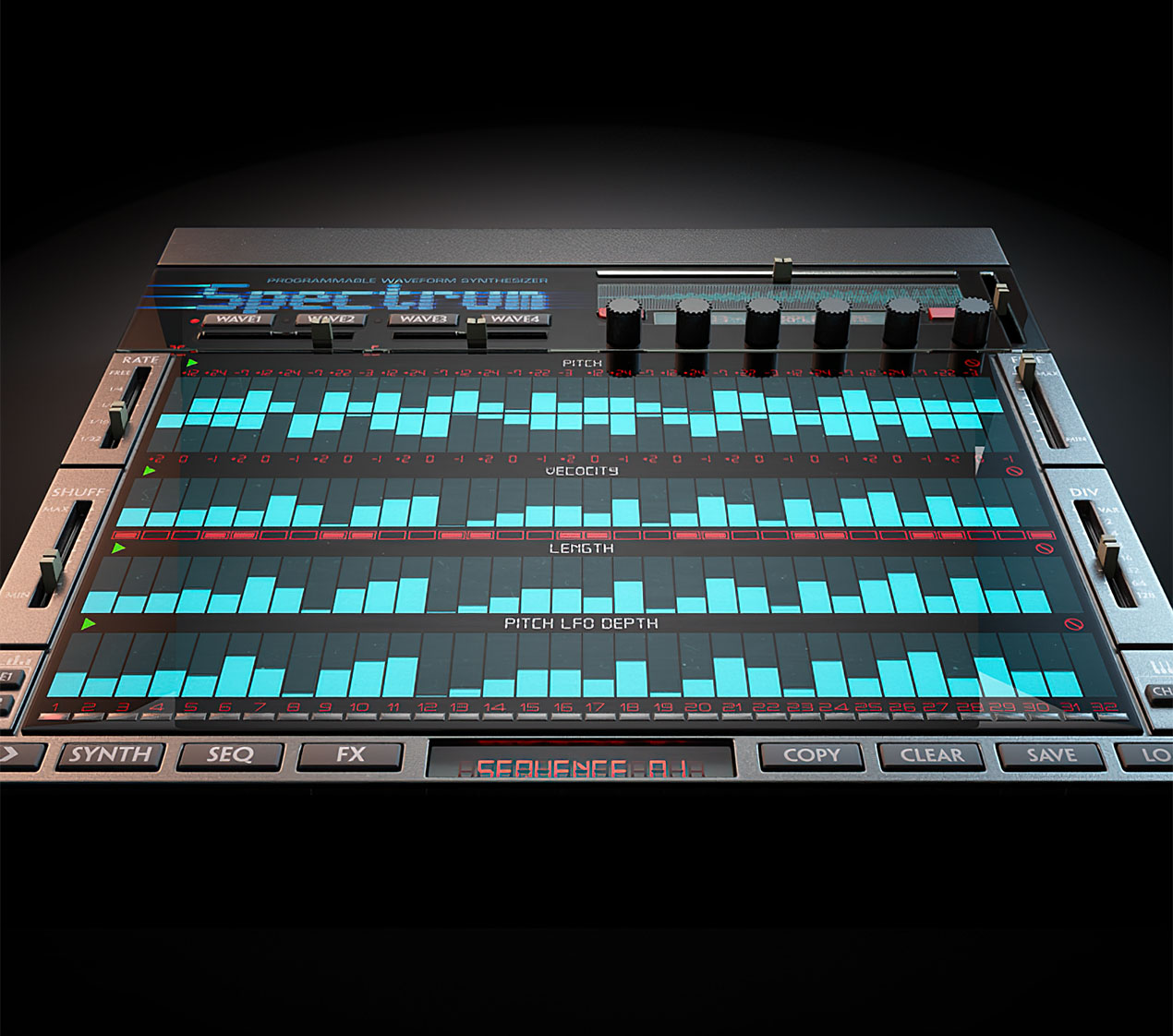 Sequence
Create modular style sequences with Spectrum's Internal 32-step, 9 lane sequencer: sequence note, pitch, length, LFOs velocity, and all filter parameters independently.
An internal Chord memorizer includes easy and advanced modes for creating powerful chords and stacked sounds…
In the Press
What people are saying about Spectrum…
"Unmistakable vintage tones, sweeping leads, deep chords, lush pads make up just a small slice of the tones on offer… Sounds great, beats the competition for price!"
Concept
Our goal with Spectrum was to bring together under one roof the iconic sounds of the most sought-after analogue and digital synths in existence, with the ability to layer, blend and creatively transform patches, tones and timbres into fresh, organic, evolving sounds.
At the heart of Spectrum lies a beautiful, versatile collection of synth patches; each lovingly designed from the ground up using an impressive collection of iconic analogue and digital synthesizers:
Moog Minimoog Model D, Roland Juno-60, Roland Juno-106, Roland Jupiter 8, Arp Odyssey, Korg MS-20, Roland JX8P, Moog Source, Roland Saturn 09, Roland SH-09, Moog MG-01, Korg Minikorg, Korg Poly-800, Future Retro XS and Yamaha DX5.
185 unique patches designed on a collection of Vintage Analogue and early Digital hardware synthesizers
Over 250 uniquely designed custom presets in Kontakt Snapshot format with support for Maschine 2 and Komplete Kontrol Keyboards
Blend and creatively layer up to four unique patches simultaneously for authentic vintage character or powerful modern sounds
9969 carefully recorded samples at 96KHz – Over 20GB in size (12GB Compressed)
HD analogue – All samples have been carefully looped and edited with advanced noise removal to greatly increase the dynamic range many times over the original synths
Dice Mode – a unique feature allowing you to automatically create new and inspiring sounds instantly, in a single click, with hundreds of millions of unique combinations…
Deeply scripted parameters allow for intuitive and powerful control to sculpt the sound of the original patches into new, organic and complex unique sounds
Internal Chord memorizer (along with presets), including easy and advanced modes for creating powerful chords and stacked sounds
Internal 32-step, 9 lane sequencer allowing you to sequence note, pitch, length, LFOs velocity, and all filter parameters independently
Internal Channel strip effect allows for quick and easy processing of sounds for a punchy and modern sound
Internal Effects system allows for routing of Chorus / Flanger, Delay and Reverb to external busses for mix down
Voice playback allows for mono, legato and variable polyphonic voices up to 64 voices
Please Note: This instrument does NOT work with Free Kontakt Player. A full version of Kontakt is required