REVOLUTION
14 iconic drum machines, one powerful plugin…
Revolution, the award winning drum machine used by artists ranging from Dua Lipa and Björk to Chris Lake and Nine Inch Nails.
Detailed sampling recreates every control of 14 classic machines with the sound of tape, lofi samplers and the most sought after studio hardware. Go from pure analog to punchy and polished mix ready beats dripping with character.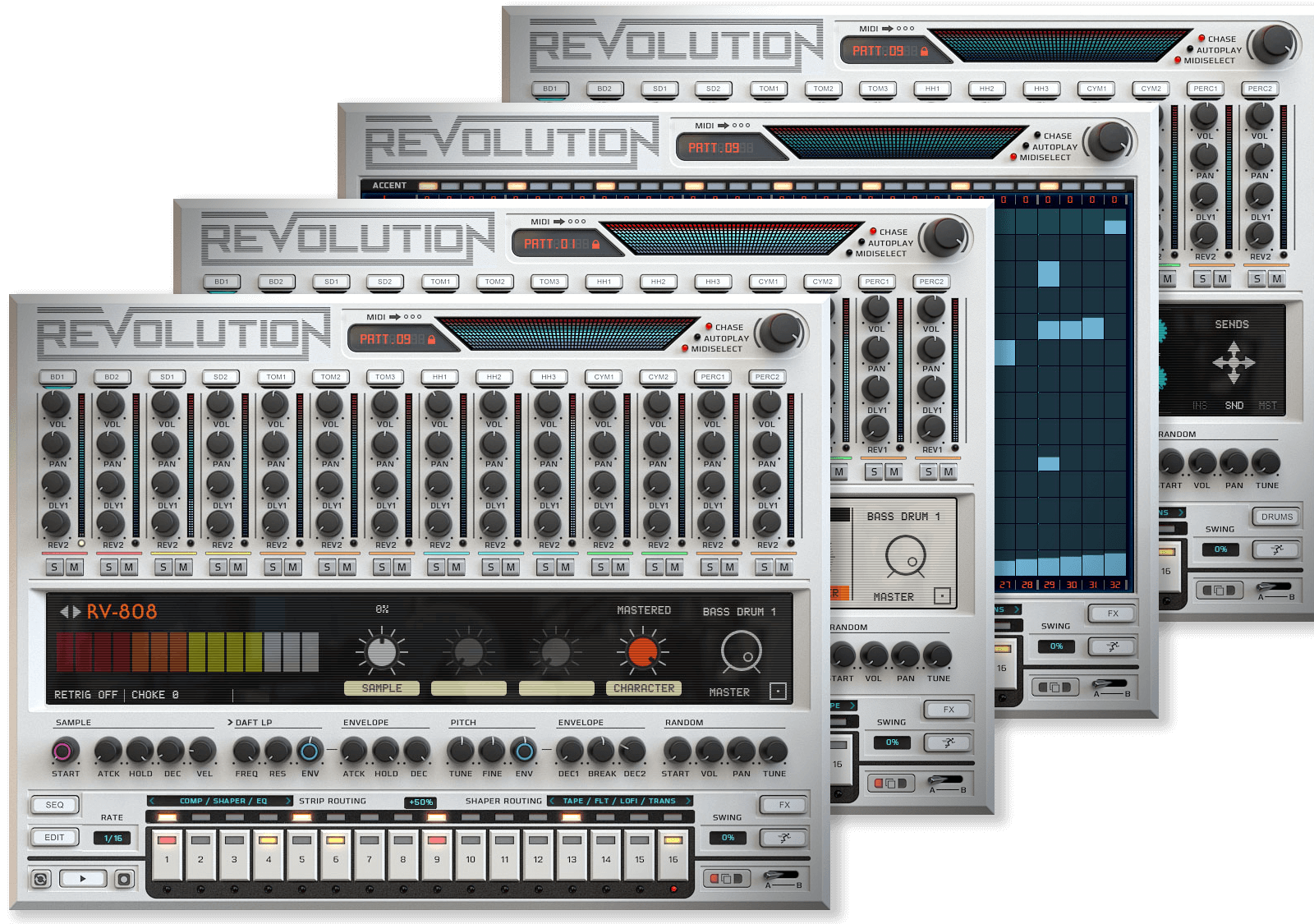 Explore Revolution
Take a deep dive into Revolution…
Revolutionize your studio
More than just samples, Revolution is a living and breathing instrument. Just like hardware drum machines, Revolution lets you change the analog character and sound in real time without ever repeating the same sound twice.
Modulate the analog pitch and snap of an 808 snare drum or experience the lo-fi tuning of a classic 80s digital kick in a single instrument. Whether you want to create a hybrid 909 / Linndrum or load up your 14 favourite analog snare drums and automate the sound in realtime, Revolution makes it possible.
Winner of 'Best Software Instrument of 2017' (awarded by Music Tech Magazine).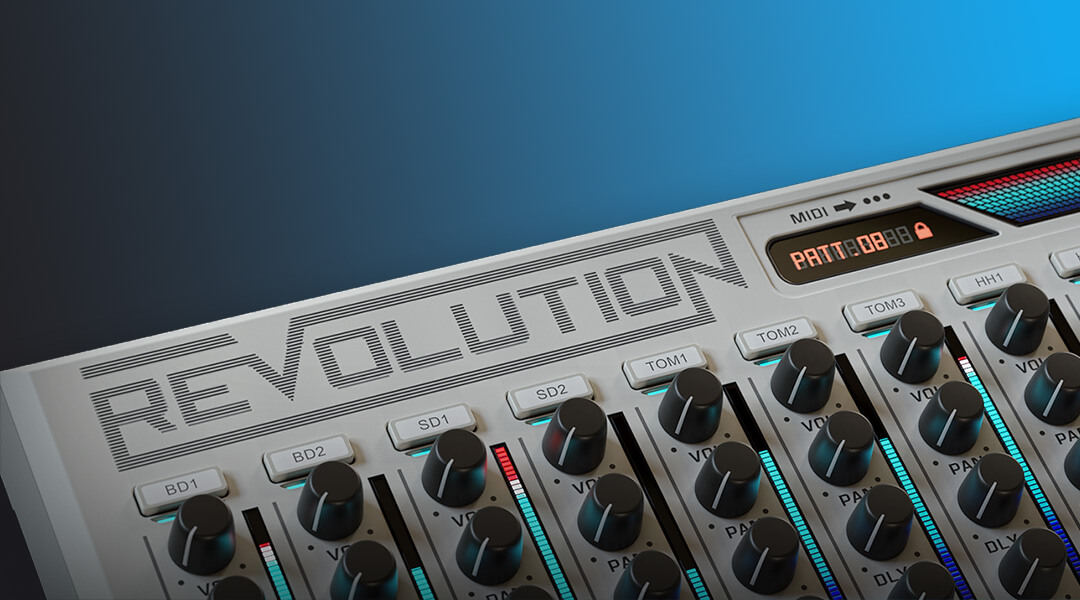 Dream Machines
Great sound doesn't happen by accident. Revolution is designed to capture every detail of these iconic machines in the truest way possible. Using the best analog preamps and digital converters we've been able to capture the original sound in its purest form and allow you to go between the cleanest raw sound to saturated analog tape or lofi vintage samplers.
Recreate the driving pulse of classic house, the dirtiest trap 808s or the unmistakable rhythm of Italo Disco.
If you've heard electronic drums in the past 40 years you've heard these machines.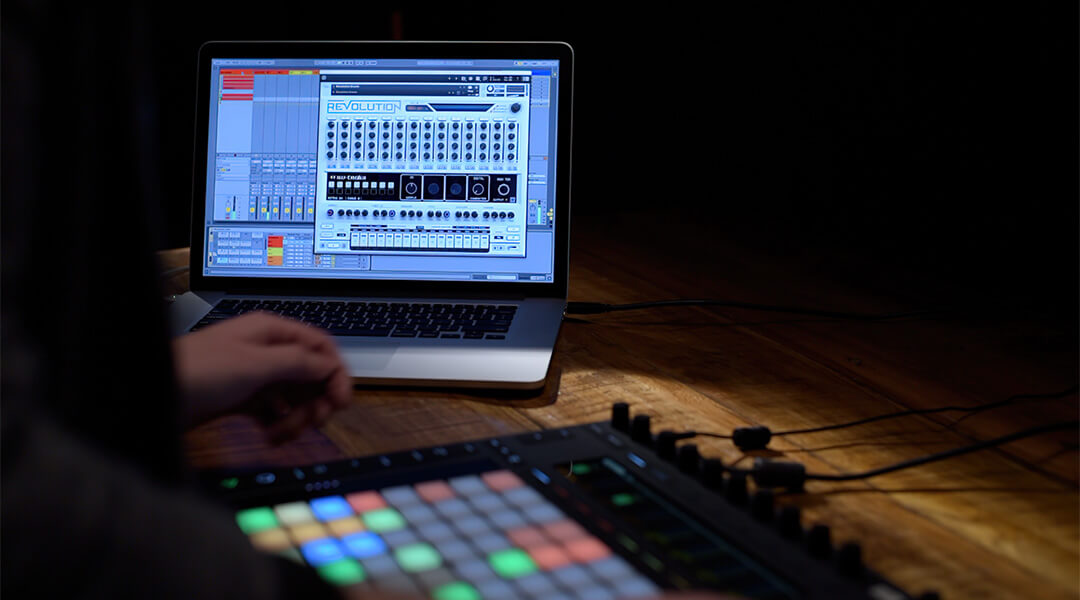 Revolutionary Integration
Revolution integrates seamlessly with your DAW, delivering endless inspiration and a compelling workflow. The user interface has been designed with both the producer and live musician in mind.
Easily automate all 'analogue' parameters using Revolution's expressive step sequencer, or use the alternative classic drum computer sequencer for an experience similar to the original machines…
Tempo sync is automatic, and exporting a sequences' MIDI data to your sequencer is simple via drag and drop.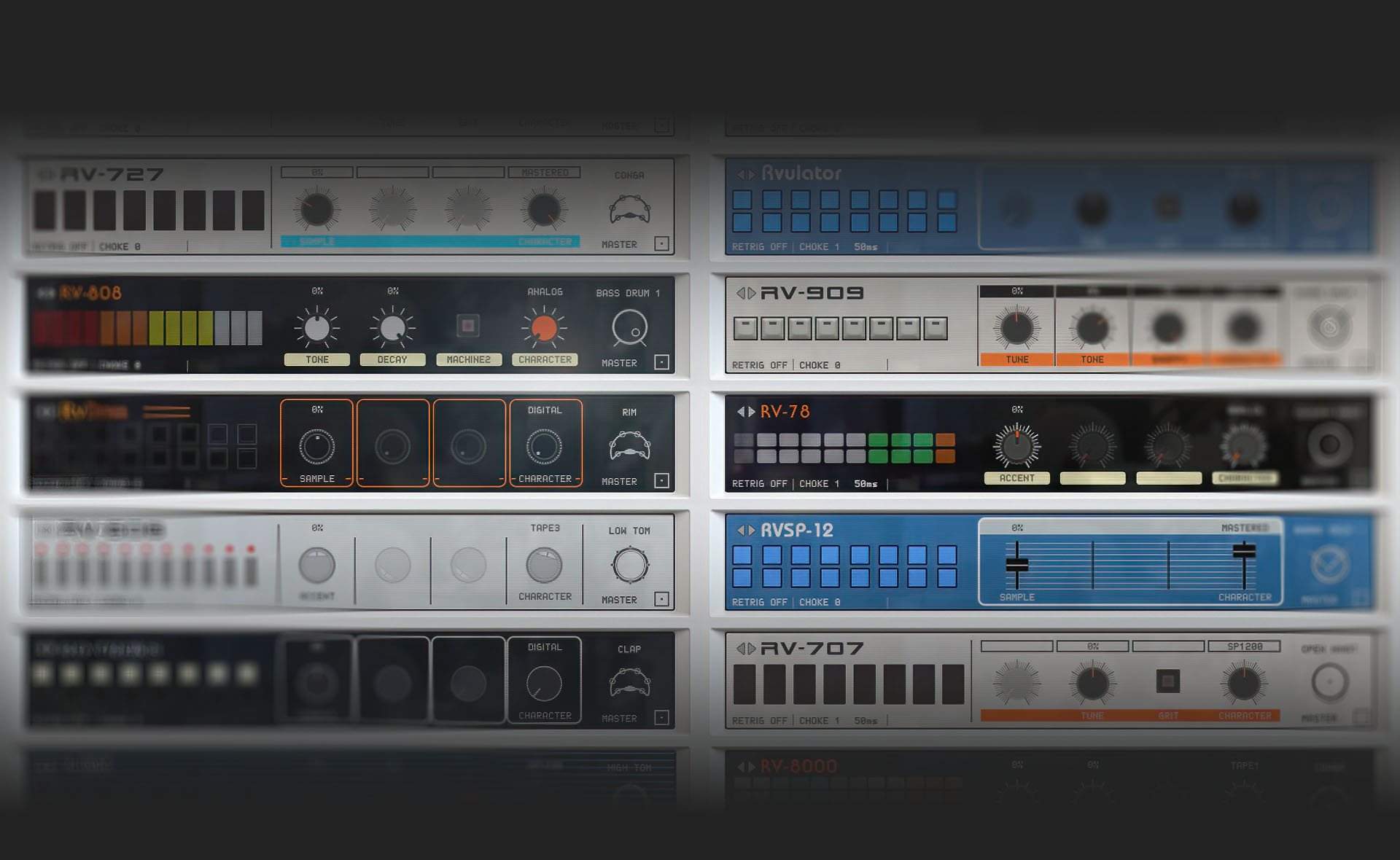 Effortlessly mix and match any of Revolution's 14 drum modules to build your own modular dream Drum Machine. Get creative with the RV-808, RV-909, RV-78, RV-8000, RV-606, RV-Drum, RV-Traks, RVulator, RV-DX, RVSP-12, RV-707, RV-727, RV-505 and RVBoy.
Add space to your drums with Revolution's dual reverb module; with 160 custom impulses from iconic reverb units such as the Lexicon 300L, AKG BX20 Spring, AMS RMX16 and many others, alongside rich acoustic rooms from world class studios..
Add definition to your drums with analogue style filters and envelopes. Enhance character and tone with transient shapers, EQs, compressors and tape saturation – each available independently, per channel.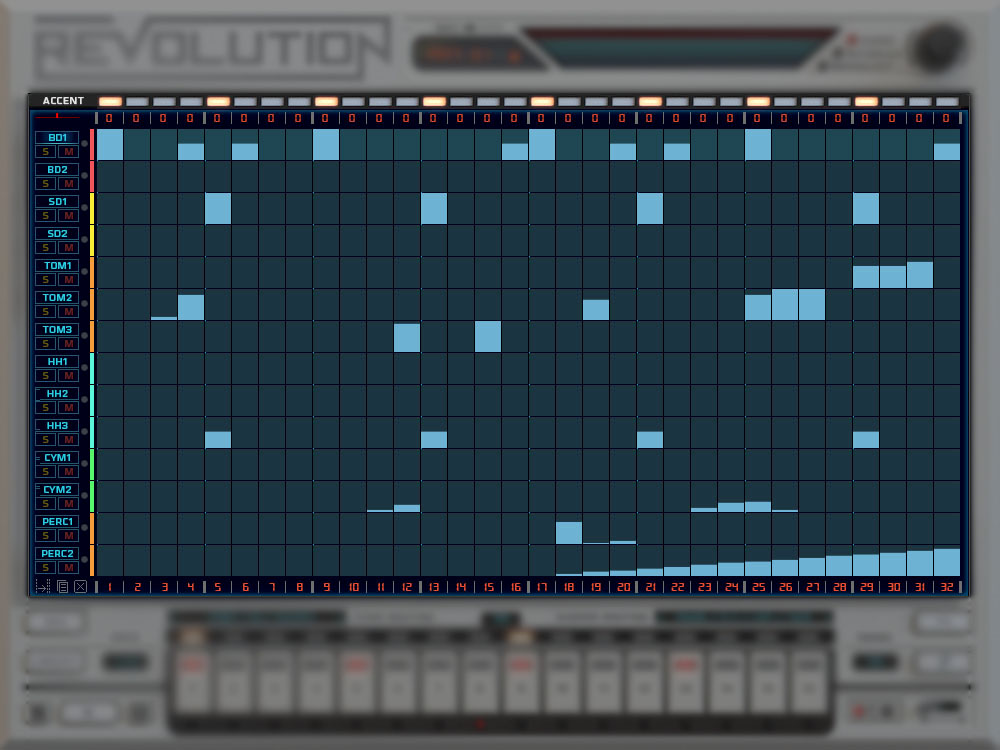 Classic sequencing, modern workflow
Not stopping with recreating the past, Revolution pushes into the future with new features only made available in a modern plugin. Sequence drums and export MIDI to your session in a single click. Mix with high quality EQ, Compression and multiple distortions and filters. Modulate the original drums with envelopes and randomization for totally new sounds. With full NKS integration you can also use Revolution with a Komplete Keyboard or Maschine Drum controller for hands on control.
Analogue Character
Want even more character and punch? No sweat. Many of the Drum Machines in Revolution have been carefully recorded to analogue tape at multiple saturation levels (via a Studer A820), as well as through a vintage SP-1200 sampler and boutique analogue processing chains.
Revolution's 'Character' knob allows you to dial in a desired 'Character' for each individual Drum Machine. Want a raw sounding, true to the original 808 Bass Drum? Want an analogue tape saturated 909 Snare Drum? How about a gritty SP-1200 processed Linndrum clap? We've got you.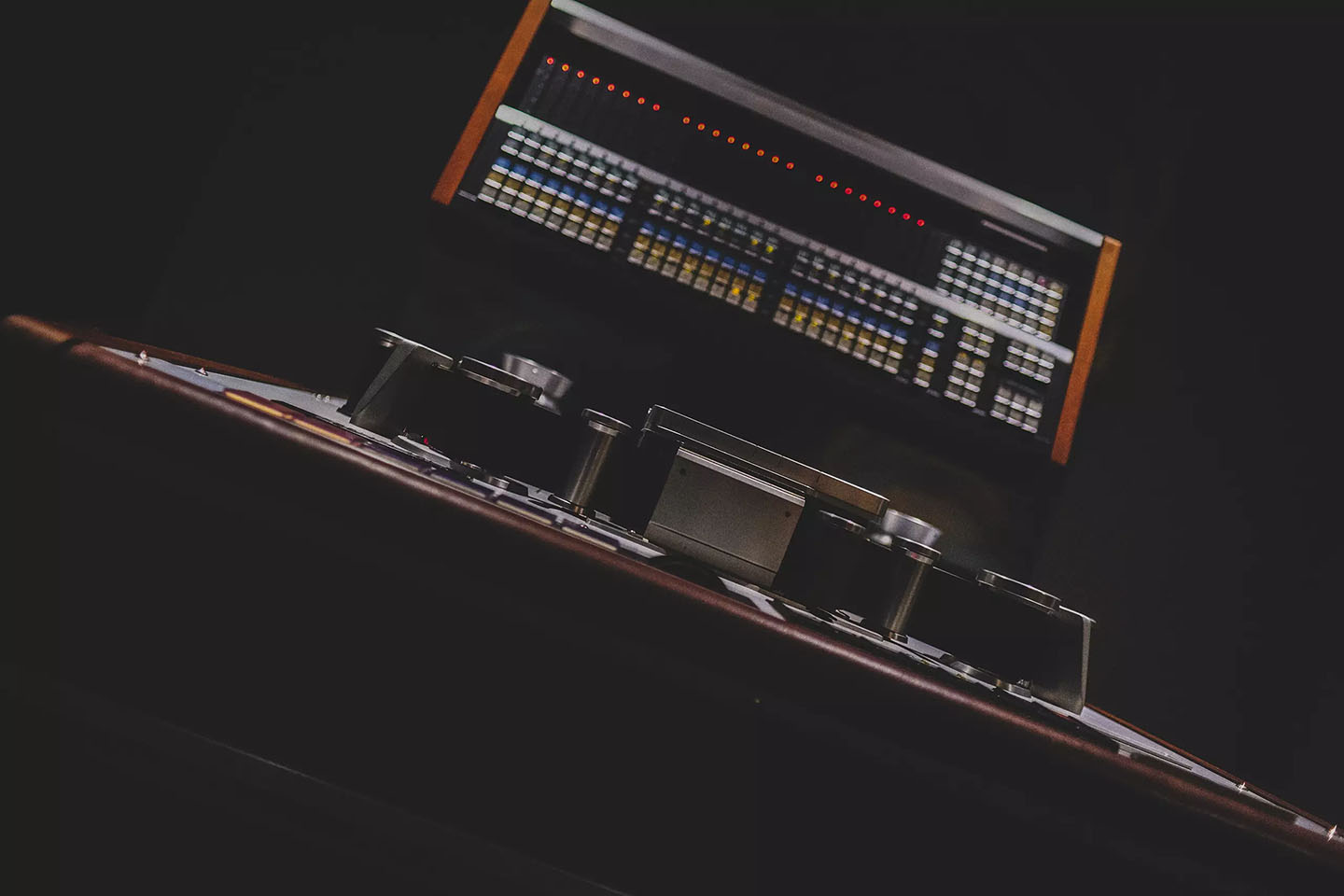 Intricate Sampling
Revolution's sound engine is powered by tens of thousands of samples, capturing every possible sound / tone variation and nuance of the original drum machines, along with the subtle differences in behaviour inherent of analogue electronics.  Each sound has been carefully recorded via a transformer balanced Radial JDI and brought to line level with a NEVE 1073 pre-amp.
To retain the full frequency range and dynamics of the original instruments, we carefully matched the peak level of each drum, recording them through mastering grade conversion.
Revolution is not a digital 'emulation', it is the real authentic sound of 14 of the world's most iconic, sought-after drum machines.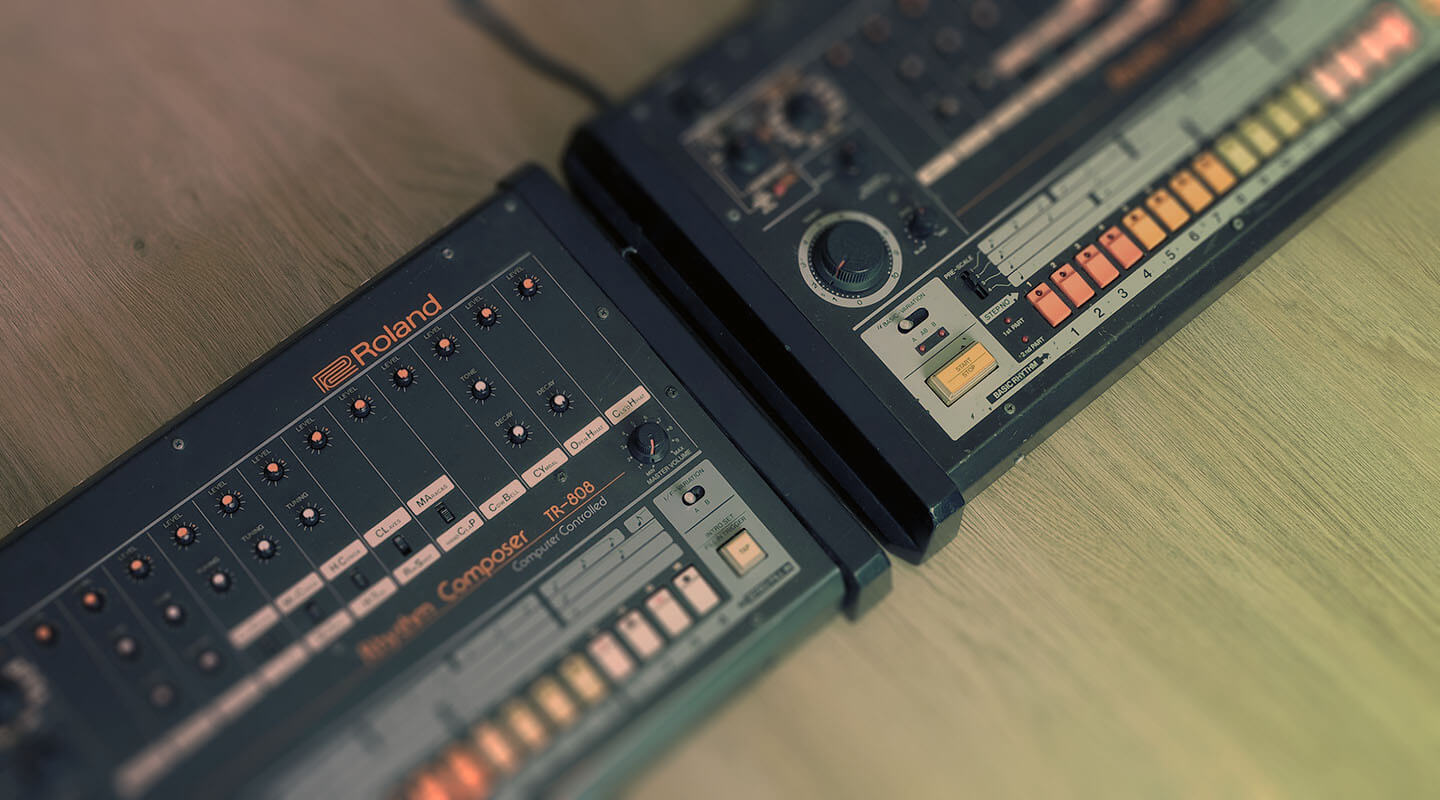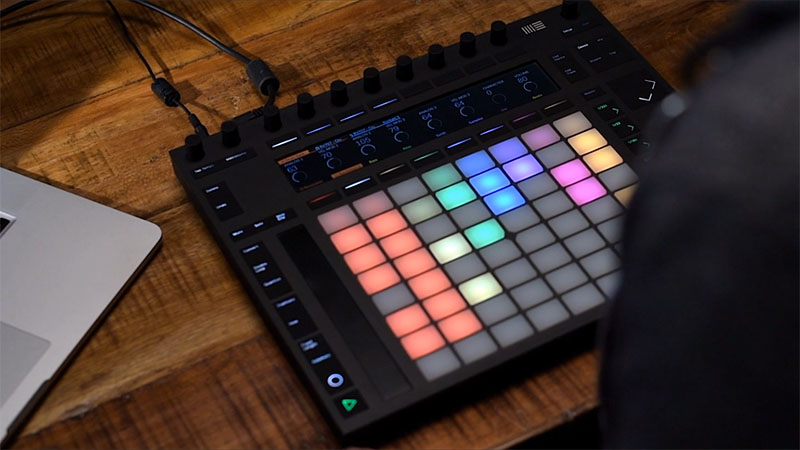 Promo Video 2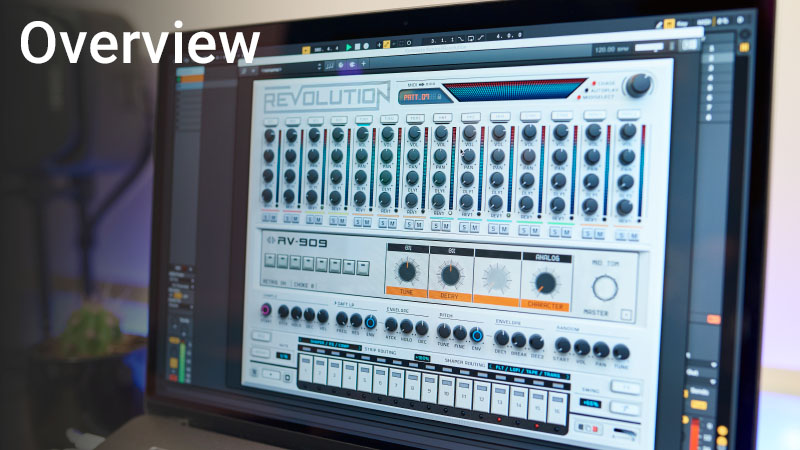 Overview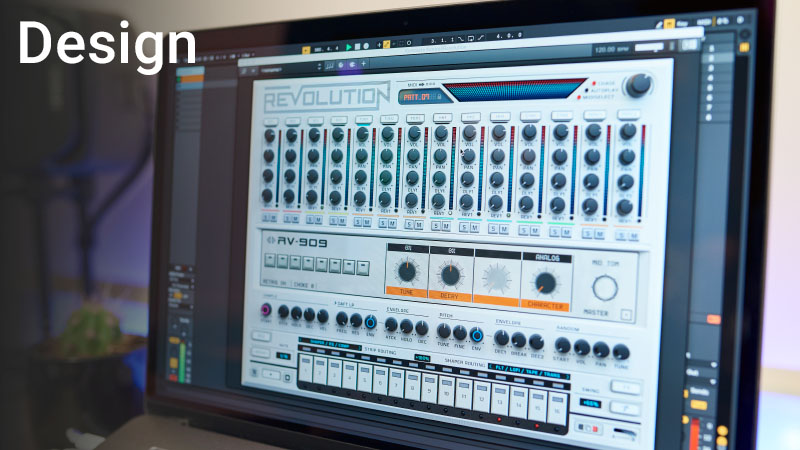 Design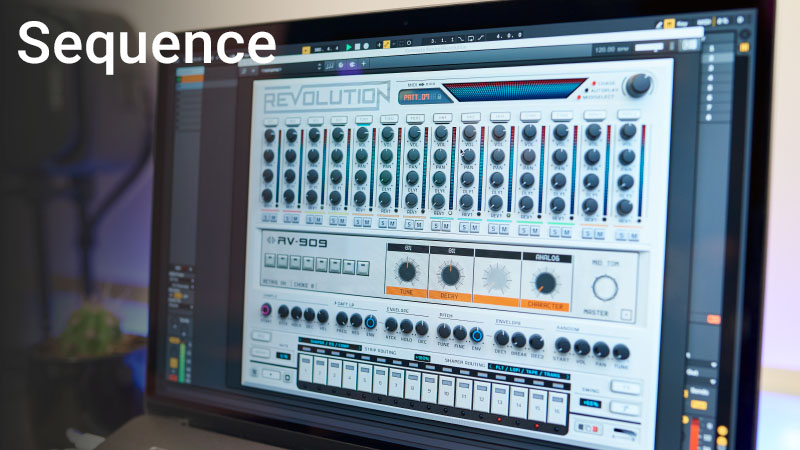 Sequence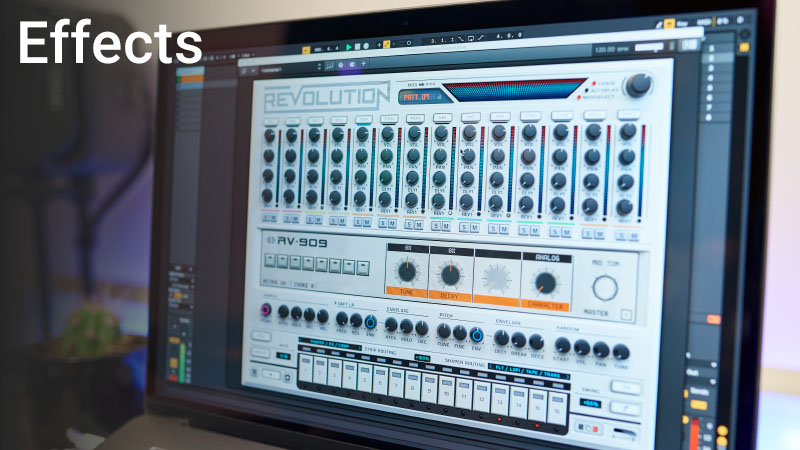 Effects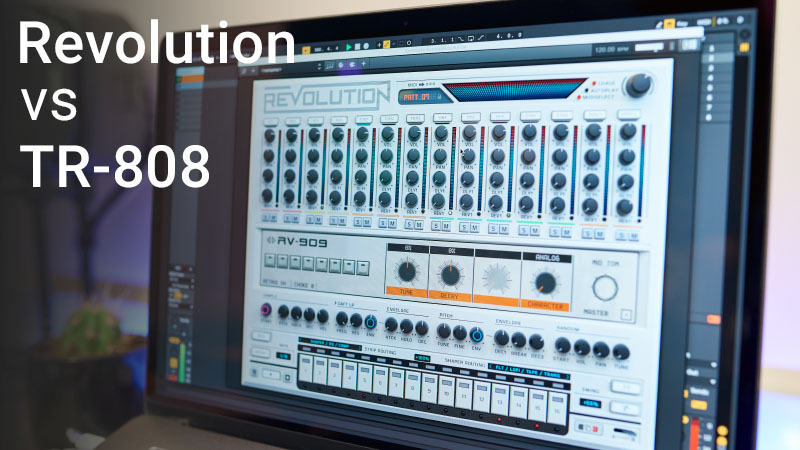 Rev vs TR-808
In the press
What people are saying about Revolution…
"If you like classic electronic drums, then this is the ultimate sampled drum instrument that captures the originals perfectly, while offering plenty of options to create new and interesting kits…"
"All your favourite drum machines in one place…This thing sounds fat and huge, the raw samples are pristine. The clever sound design tools take it to the next level for me!"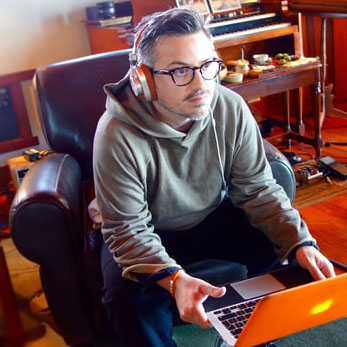 "Incredible sound quality, great interface, clever workflow, powerful effects and instant sequencing. You'd be hard pressed to argue for a better in-the-box vintage drum solution…"
"The attention to detail with Revolution is quite immense. Wave Alchemy have really delivered with a virtual instrument that captures the inherent behaviour of analogue equipment…"
"I spent a lot of time comparing Revolution's kits to several other libraries and these have the edge in terms of low-end solidity and natural smooth presence. As recreations these are the most convincing…"
Available in Standalone, VST, AU and AAX instrument formats. Revolution is powered by FREE Kontakt Player from Native Instruments. Full version of Kontakt is NOT required
Faithful emulations of 14 of the world's most iconic Drum Machines
Recreate every nuance of 14 iconic drum machines or define your own unique sound using Revolution's advanced feature set
Create your dream Drum Machine using Revolution's dynamic interface
Browse and instantly load hundreds of inspirational presets – designed by world-class sound designers
Add real analogue tape saturation, character and vintage grit using Revolution's unique 'Character' knob
Browse over 1000 sequencer preset patterns using Revolution's in-built pattern library, or easily create and share your own using Revolution's expressive multi-track sequencer
Seamless integration with your DAW
Expressive 32-step multi-track sequencer with individual per step modulation routings
Classic style 16-button step-sequencer with full accent control, host sync, swing / shuffle and MIDI input
MIDI drag and drop patterns directly to your DAW
World class effects and 160 high-end custom reverb impulses recorded from classic gear
High-quality filters, EQs and transient shapers – each available independently, per drum sound, with dynamic routing
Introduce variable groove humanization and organically varied movement to your beats with Sequencer Slop
Play and sequence drums over a 4 octave range of pitch to create musical percussive rhythms, 808 sub bass-lines or anything in-between…
Host sync play and on-screen transport control
NKS Ready – Total integration with Komplete S-Series keyboards and Maschine Hardware
8GB in size after unpacking
Mac
Supports Apple Silicon Macs (natively on ARM) on macOS 11 or newer
Supports Intel Macs (i5 or higher) on macOS 10.15 or newer
Runs in Kontakt (Free) Player
Windows
Supports Windows 10 or newer
Recommended minimum Intel Core i5 or equivalent CPU, 2 GB RAM
Runs in Kontakt (Free) Player