Explore Drumvolution
Take a deep dive into Drumvolution…
Beyond evolutionary…
Drumvolution gives you the power to layer, sequence and transform a cutting-edge library of electronic drums and sound design tools built for forward thinking producers.
With custom macro controls, XY sound layering, intuitive sample browsing, parameter lock sequencing and over 400 included presets, Drumvolution goes beyond emulation to push the boundaries of electronic music.
Welcome to drum programming evolved…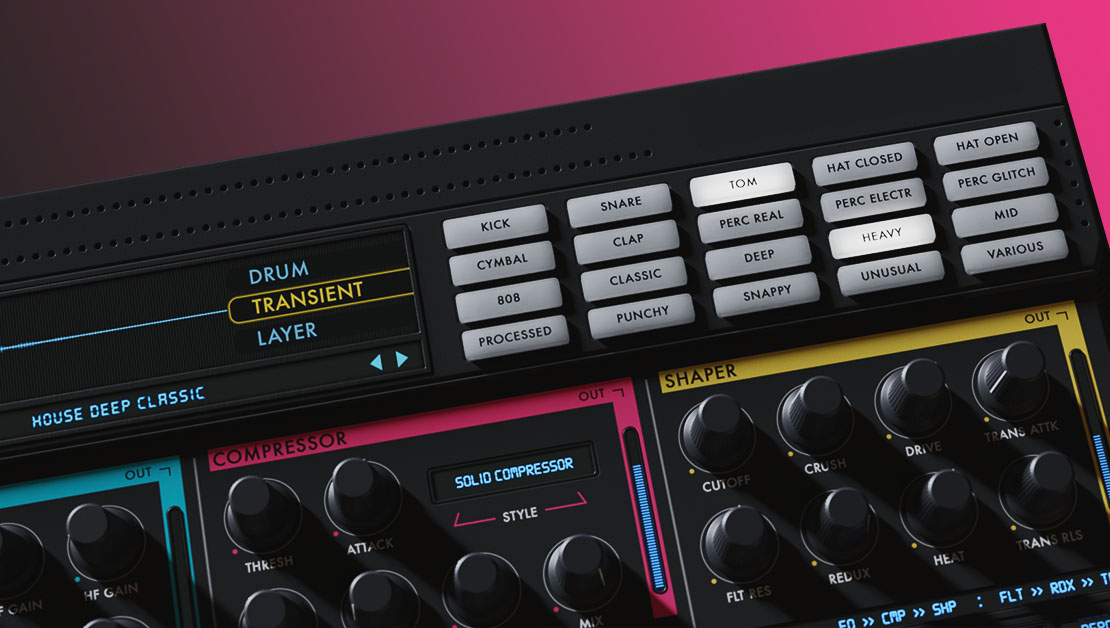 World class drums
Drumvolution is powered by over 2500 samples which were designed, layered and imagined from the ground up using only the most sought after sources. By combining modern and vintage drum machines with modular synthesis, acoustic drums recorded in top studios, processed foley and found sounds, prepared percussion, re-amped drums, tape machines and mastering grade hardware we set out to create a library that is both truly modern and instantly mix ready.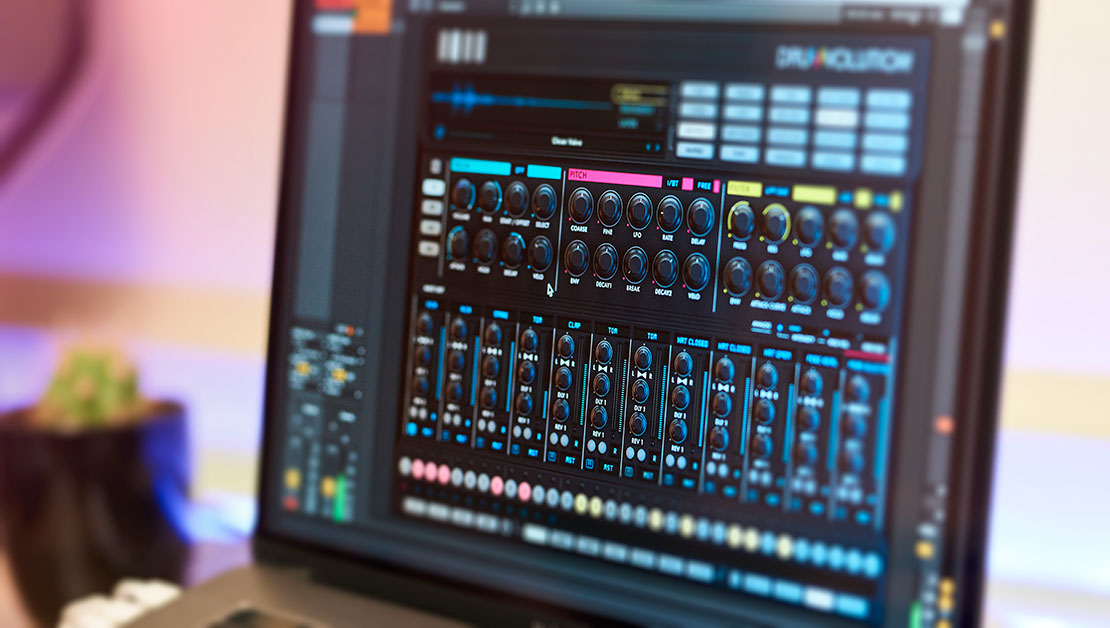 Next-level sound design
With over 400 included presets it is effortless for anyone to integrate Drumvolution into their projects — but once you start designing sounds and patterns you unlock it's true power.
Creatively layer and blend up to 3 Drum Sounds per channel, edit, modulate, effect and mix each layer independently or as whole. Freely assign parameters to one of 8 Macro Controls for 96 custom assignments per kit. Master your drum bus with powerful effects and take hands on control with full NKS integration to quickly dive into sound design with custom mapped controls.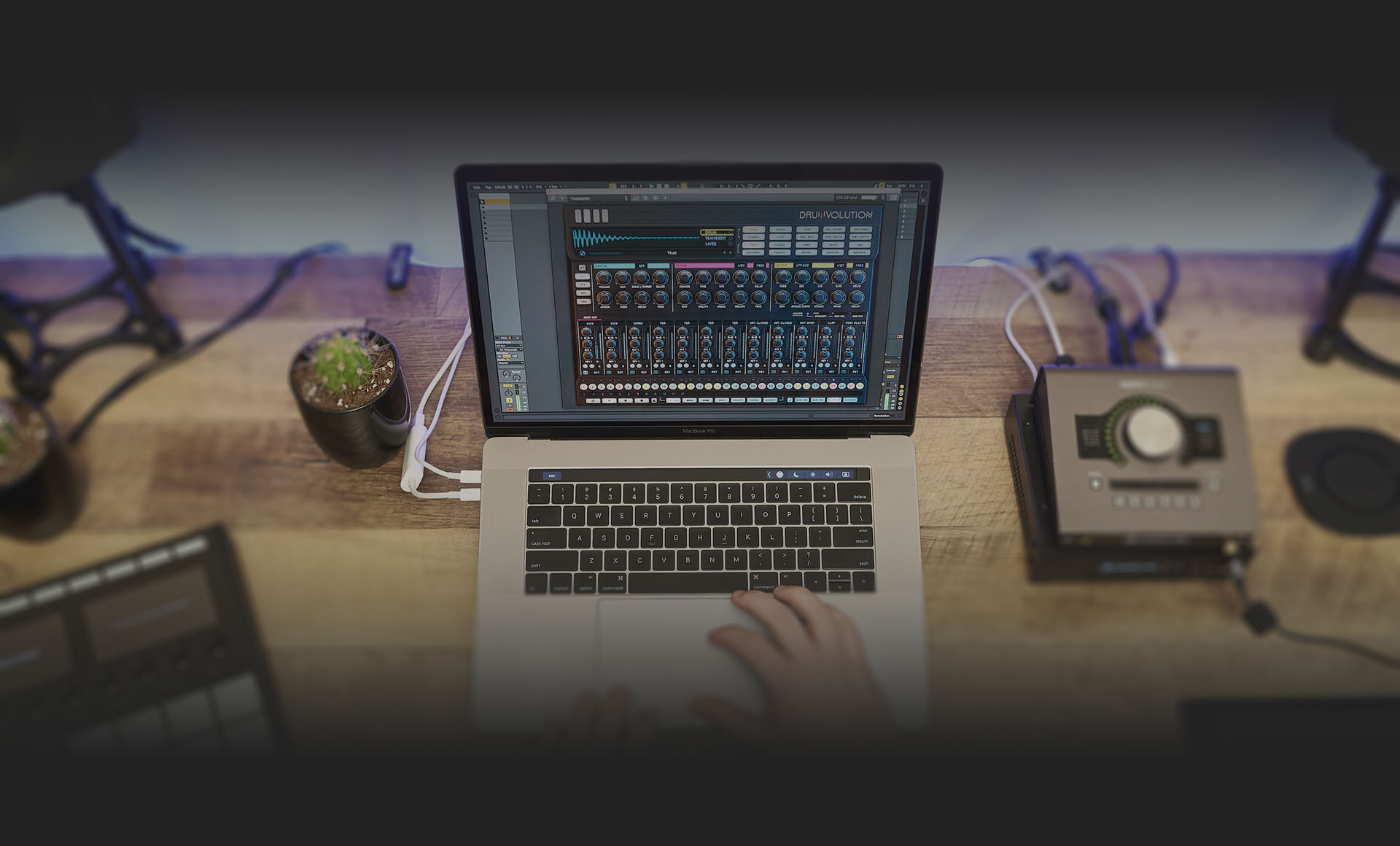 Drumvolution integrates seamlessly with your DAW, boasting a compelling workflow that will change the way you create. The user interface has been designed with both the producer and live musician in mind. Tempo sync is automatic and exporting a sequences' MIDI data to your sequencer is simple via Drag and Drop.
Polyrhythmic Sequencing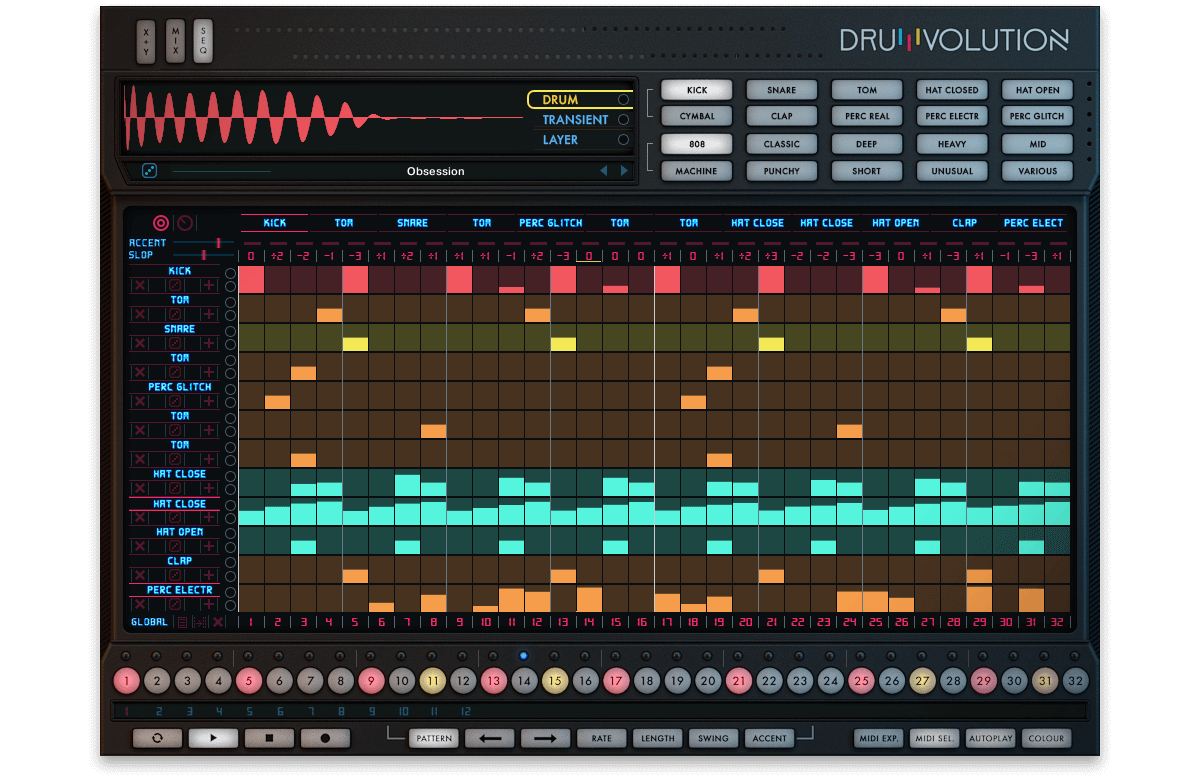 Make powerful patterns easily by sequencing Drums, macro controls, pitch, reverb and delay sends per drum. Set each sequence to have its own unique length and create evolving polyrhythms with the power of modular synthesis.
Use the Zoom control to expand any lane for higher resolution editing, mute and Solo directly from the sequencer, add swing and accent and apply analog modelled micro timing groove modulation.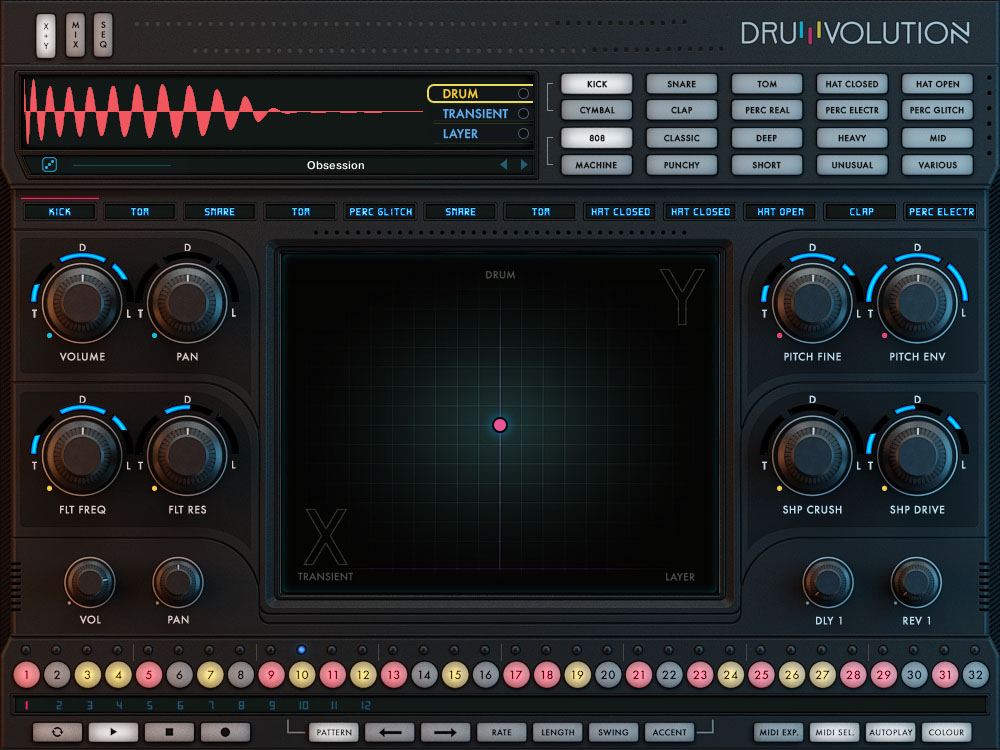 Analog Saturation
Drumvolution let's you choose between an additional three versions saturated through analog tape. This allows you to play the instrument exactly as if you were in a high end studio recording your drums to a 2″ tape machine.
Listen to the examples below to hear the impact this can have on some of the included presets…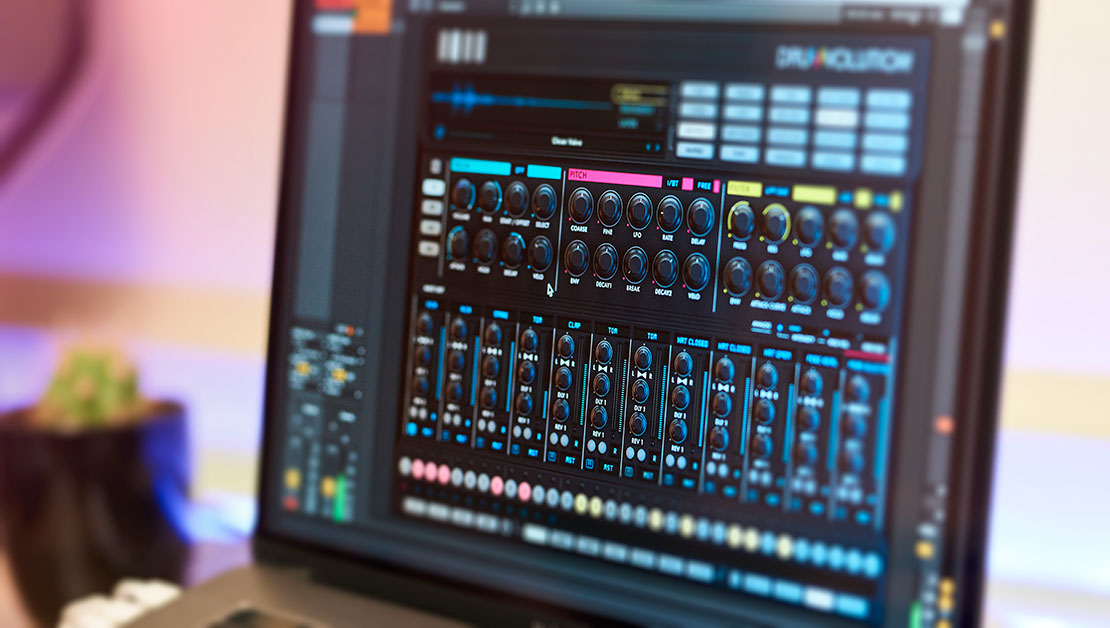 Overview
In the Press
What people are saying about Drumvolution…
"Drumvolution features deep editing possibilities and an incredibly large and versatile library of production-ready sounds…"
"Drumvolution features deep editing possibilities and an incredibly large and versatile library of production-ready sounds…"
"Incredible sound library with ultra flexible routing and effects along with a powerful sequencer make for a truly impressive NKS-ready instrument…"
Available in Standalone, VST, AU and AAX instrument formats. Drumvolution is powered by FREE Kontakt Player from Native Instruments. Full version of Kontakt is NOT required
Powerful Drum Engine powered by a versatile library of electronic drums and sound design tools
400+ beautifully crafted presets covering all modern genres – designed by world-class sound designers
3 Drum Layering Engines per Voice
4 Instruments – Clean, Tape 1, Tape 2, and Tape 3. The latter 3 delivering true analogue tape saturated versions of Drumvolution's sound library, at varying saturation levels. Recorded to a vintage Studer A80 tape machine
Blend, transform and morph between Layers using the visual X+Y Pad screen
Graphically dynamic sound browser
Seamless integration with your DAW
Extensive modular Macro System with 42 destinations
Expressive 32-step multi-track Note Sequencer with individual Zoom lanes
Polyrhythmic Sequencing capabilities for evolving and experimental patterns
Modular step-lock Parameter / FX Sequencing, per Voice
Dynamic Analog Simulation control – Faithfully simulate the random behaviour and character inherent of analogue equipment
Play and sequence any sound over a 4-octave range of pitch to create musical percussive rhythms
MIDI drag and drop patterns directly to your DAW
World class effects and 190 high-end custom reverb impulses recorded from sough-after gear
High quality filters, EQs and transient shapers – each available independently, per Drum Voice, with dynamic routing
Individual Drum Accent and Global Accent per step
Timing slop per Sequence Step – Apply subtle (or intense) random timing to your drum groove
Host Sync play and on-screen transport control
Multi Output support
NKS Ready – Total integration with Komplete keyboards and Maschine Hardware
Dedicated 12-track Mixer with individual processing and dynamics, volume control, pan and effects sends for each Drum Voice
Master processing module featuring compression, master EQ and tape simulation
4.6 GB in size after unpacking
Mac
Supports Apple Silicon Macs (natively on ARM) on macOS 11 or newer
Supports Intel Macs (i5 or higher) on macOS 10.15 or newer
Runs in Kontakt (Free) Player
Windows
Supports Windows 10 or newer
Recommended minimum Intel Core i5 or equivalent CPU, 2 GB RAM
Runs in Kontakt (Free) Player