BASSYNTH
BASSYNTH is a hybrid instrument that combines detailed multi-samples with wavetable synthesis for powerful organic, sub rattling and highly unique bass sounds.
Whether you want to combine analogue and digital oscillators with creatively processed upright and electric bass guitars or layer dirty 808s with cinematic brass and freely modulatable wavetables, BASSYNTH lets you easily define creatively powerful low-end in your track like you've never heard before.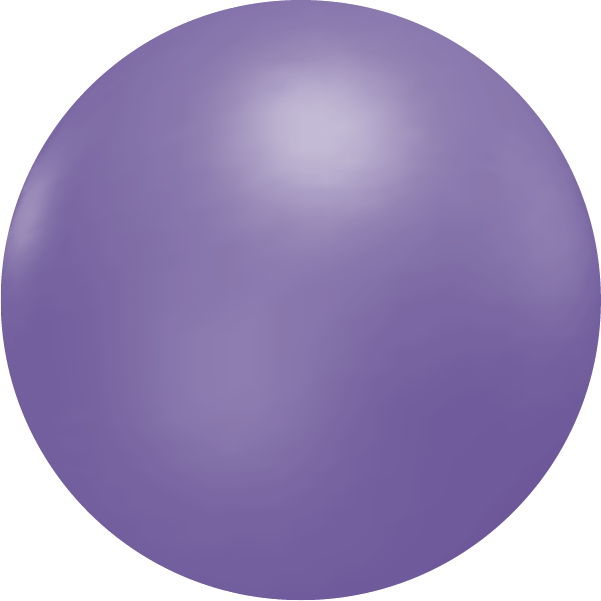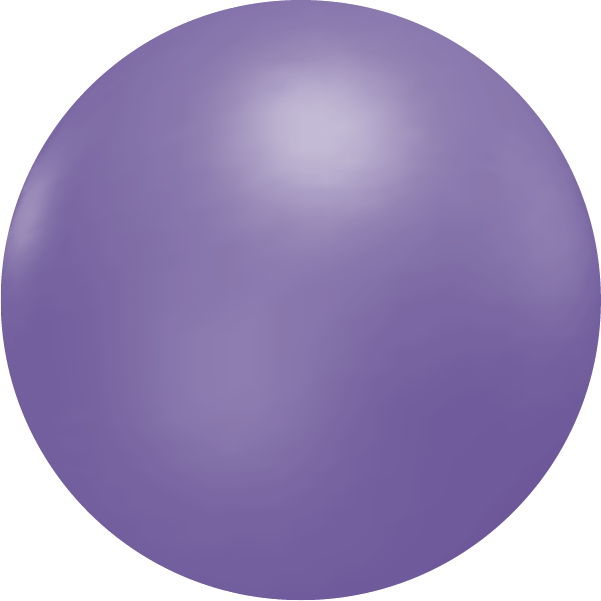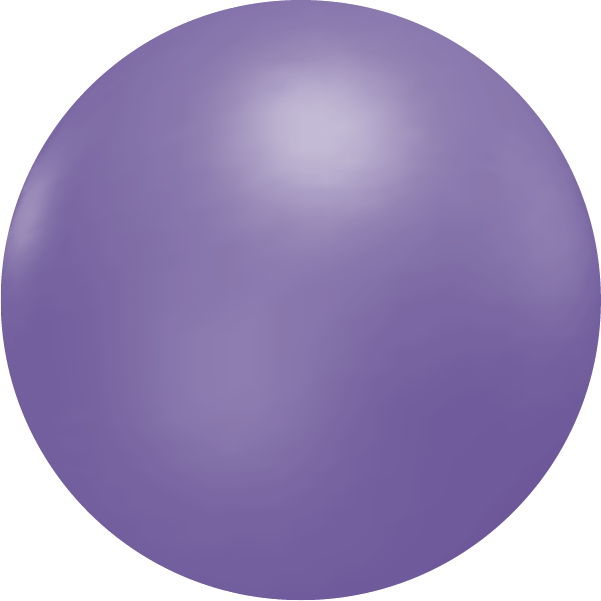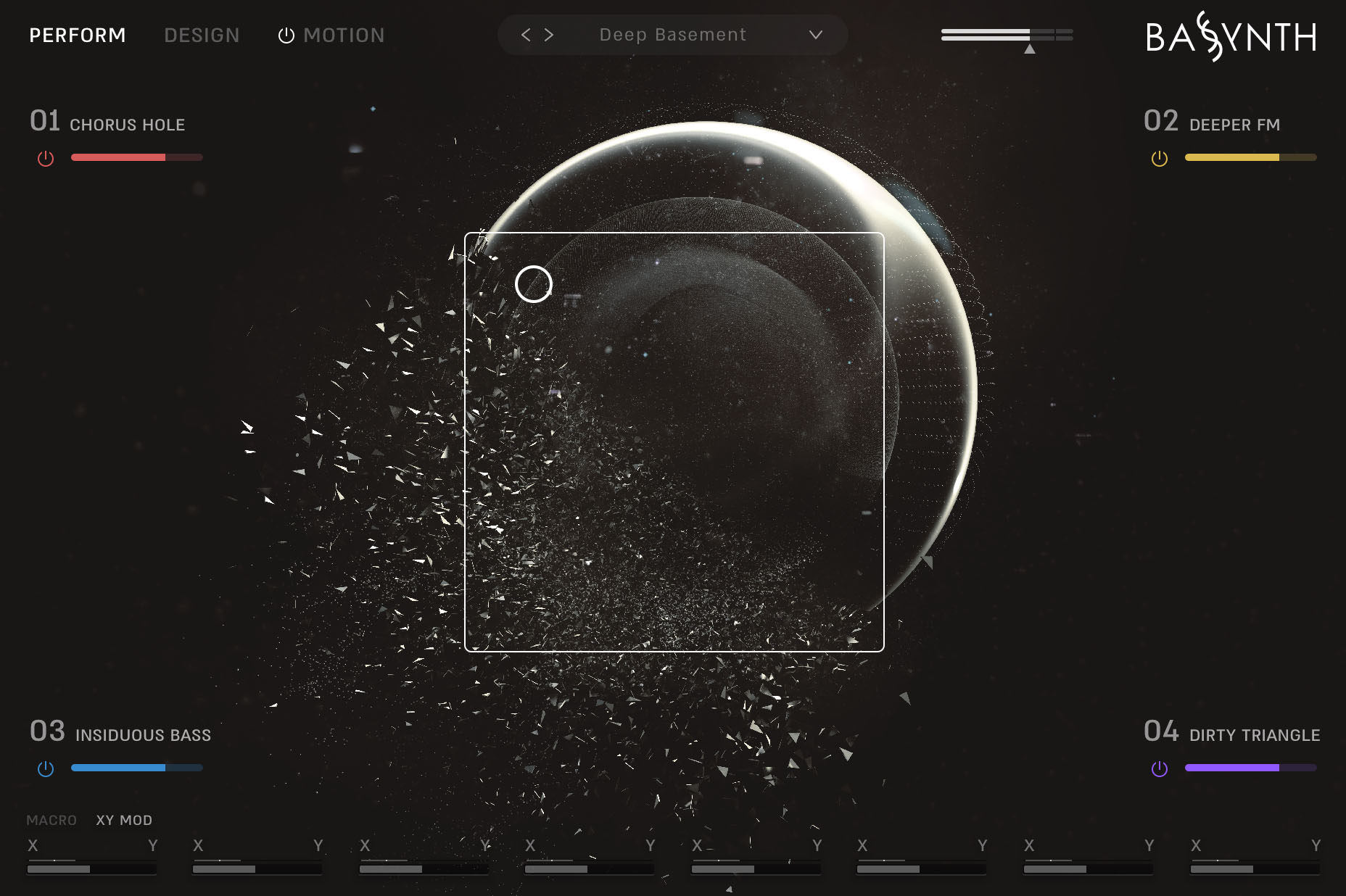 Explore BASSYNTH
Take a deep dive into BASSYNTH…
Modern, organic bass
BASSYNTH is built on a deeply multi-sampled 11GB library using only the finest sources. More than just a collection of one-shot samples, we've gone into detail to build a living and breathing, modern, organic library to power BASSYNTH's hybrid bass engine.
We collected the most desirable vintage and modern synths and sampled both their raw waveforms and designed patches using extensive modulation, filtering, and hardware saturation. We then combined this with an expansive collection of studio recordings covering everything from brass and double bass to mallets and strings.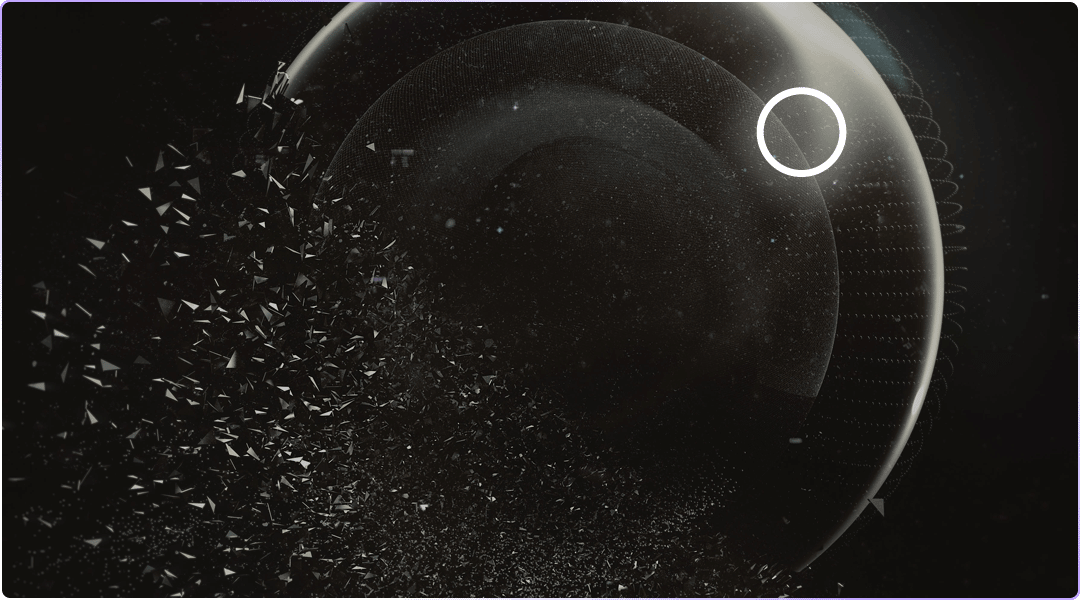 Morph, animate, perform
Use BASSYNTH's powerful XY Pad to blend and morph up to 64 parameters simultaneously with just a single knob turn. Create subtle timbral changes or transform sounds into something breathtakingly enormous and complex.
Freely assign multiple parameters to any of BASSYNTH's 8 Macro Sliders via drag+drop workflow for performance, sound design or Motion Sequencing. Each Macro can be manipulated directly from the UI, MIDI controller or via automation.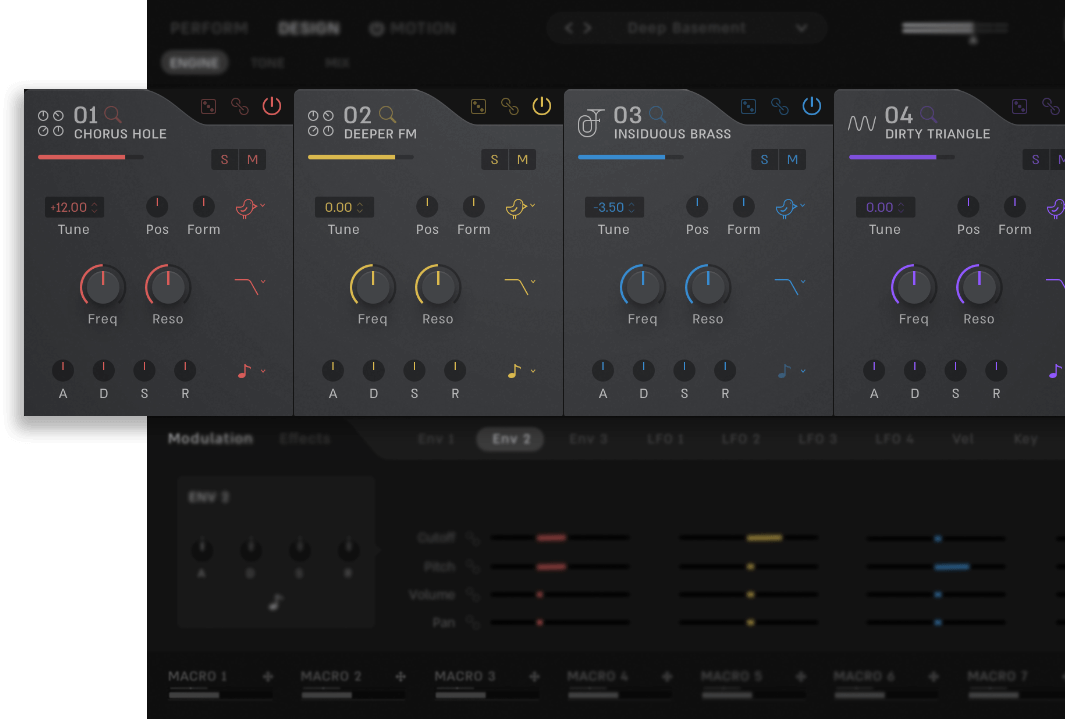 Layer
Dynamically load any of BASSYNTH's 800+ multi-sampled sound sources, wavetables or oscillators into any 4 Voices using a dynamic tag-based browser.
Creatively blend any 4 sound sources and take things further with extensive sound design parameters.
Want to mix a huge live epic brass ensemble with a dirty 808 sub, modular synth and vinyl noise, all in one patch? How about blending a bass guitar with the transient of a pizzicato upright bass and a growling sub? Anything is possible, the choice is yours…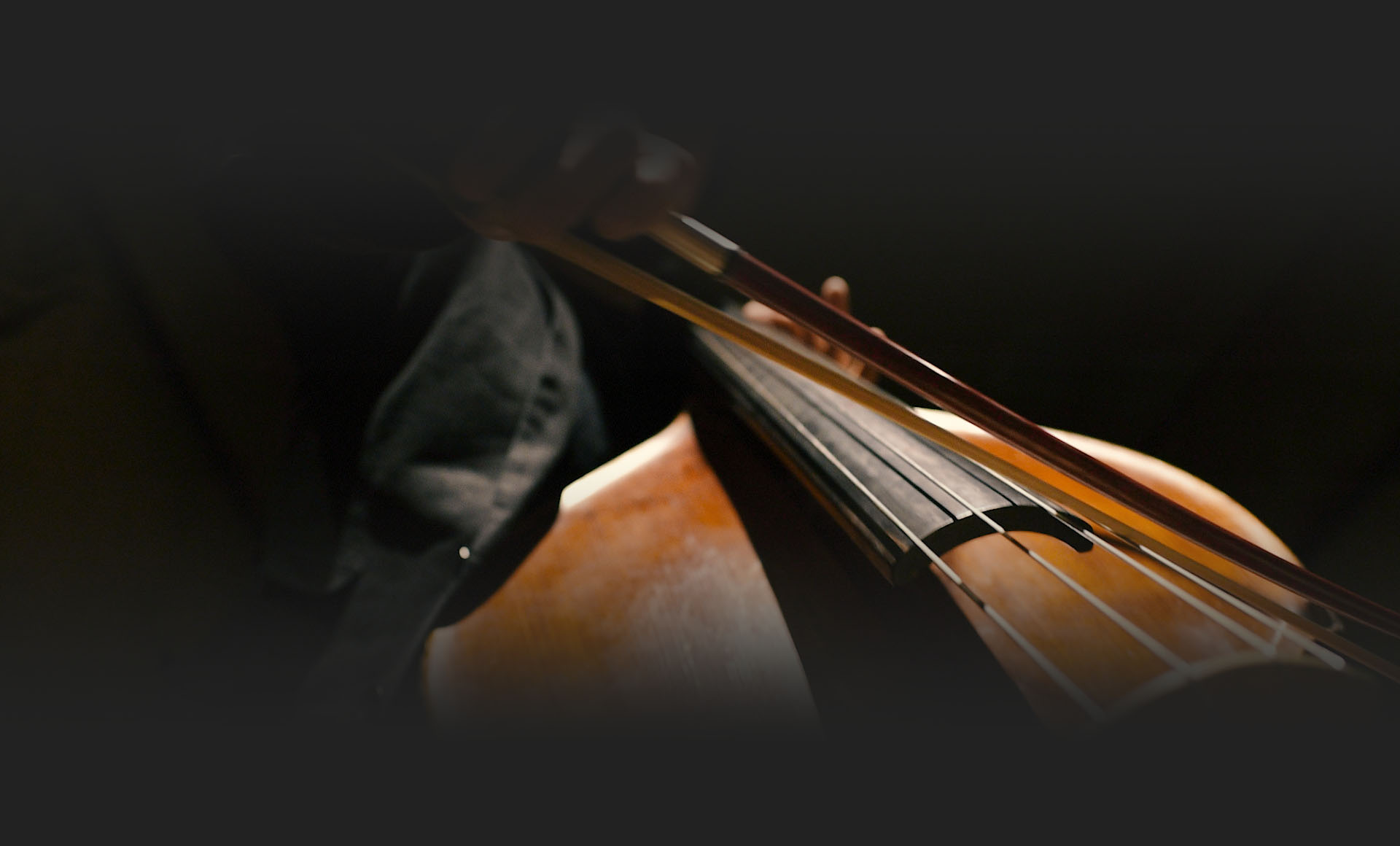 A labour of love with an astounding level of detail, BASSYNTH's sound library combines analogue synths, gritty modular bass, oscillators & wavetables; with heavily processed bass guitars, live brass, low winds & strings. percussion & mallets, subs, Foley & transients, heavily processed acoustic instruments, and more…

Endless Sound Design
Easily find your perfect bass tone by loading one of BASSYNTH's 290 presets and modulate complex parameter changes using the XY pad or mod wheel. Morph between 8 unique macro controls without ever leaving the main page.
Easily swap sounds between 800+ multi-sampled sound sources using an intuitive tag-based browser to build complex and powerful tones.
Go to the design page to drill down into each layer with mono/poly/unison voice modes, layer linking, intelligent randomization, multi-mode filters, tempo sync'd envelopes and 11 modulation sources which can be routed to each individual Filter, Pitch, Volume, Pan and Wavetable specific control such as format and position.
Synths
Get busy with filthy analogue mono synths, the grittiest modular systems and polysynths.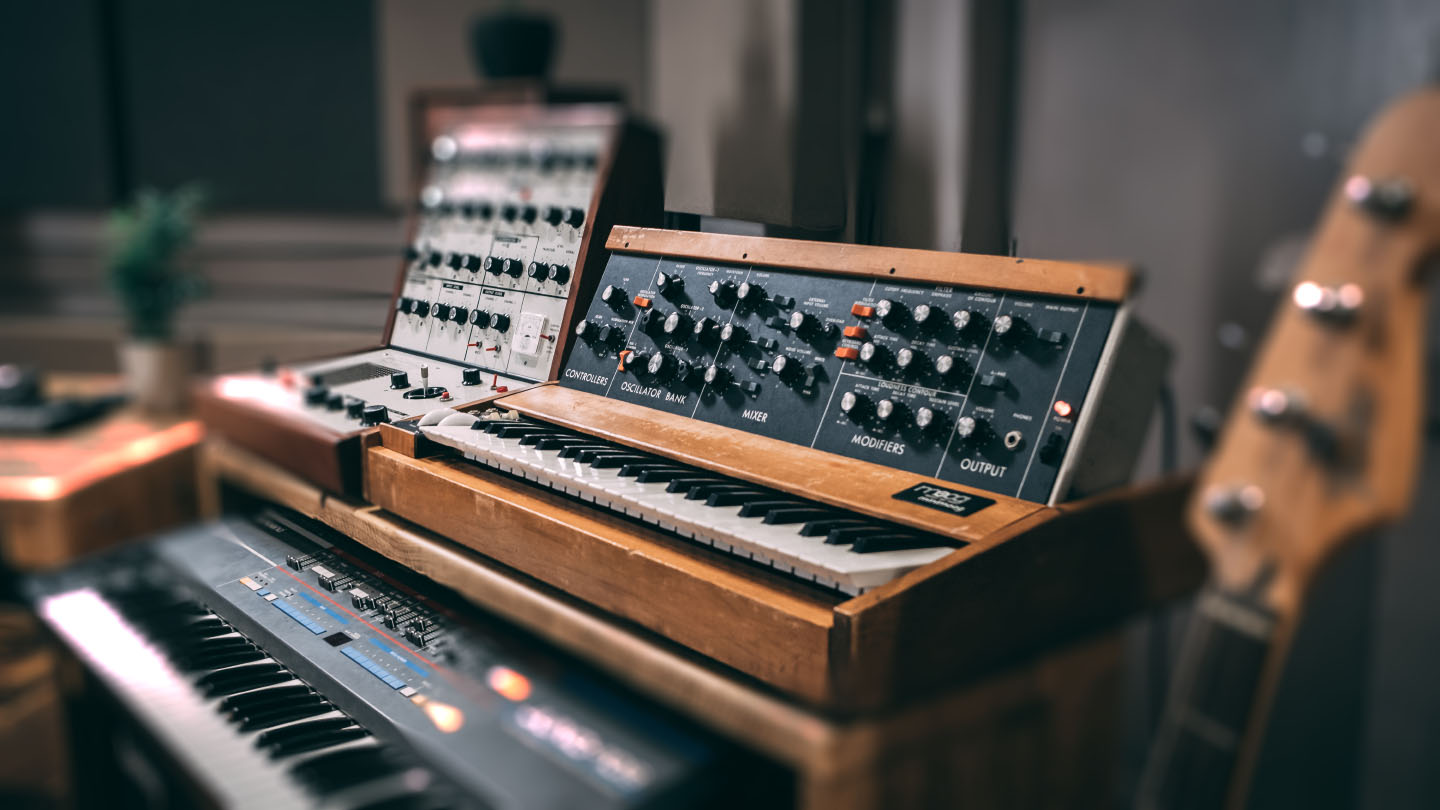 Brass
Make your bass unique with epic live brass sections, bass heavy horns and creatively mixed brass layers. All recorded in world-class recording studios.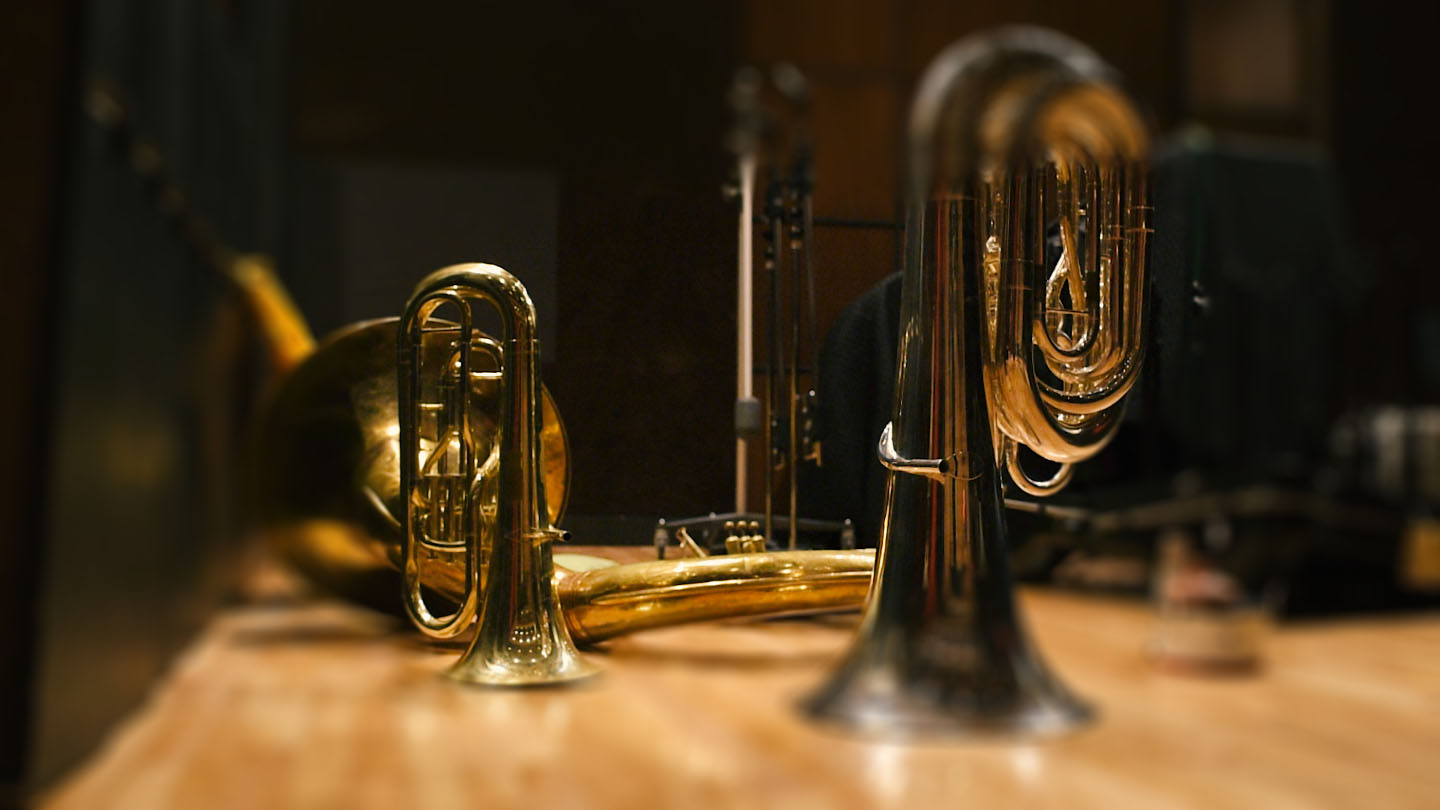 Creative Processing
The sounds in BASSYNTH have been creatively processed through analogue tubes, tape machines, cassette decks, high-end analogue outboard gear, guitar and bass amps and more.
Impart a unique sonic signature to your bass.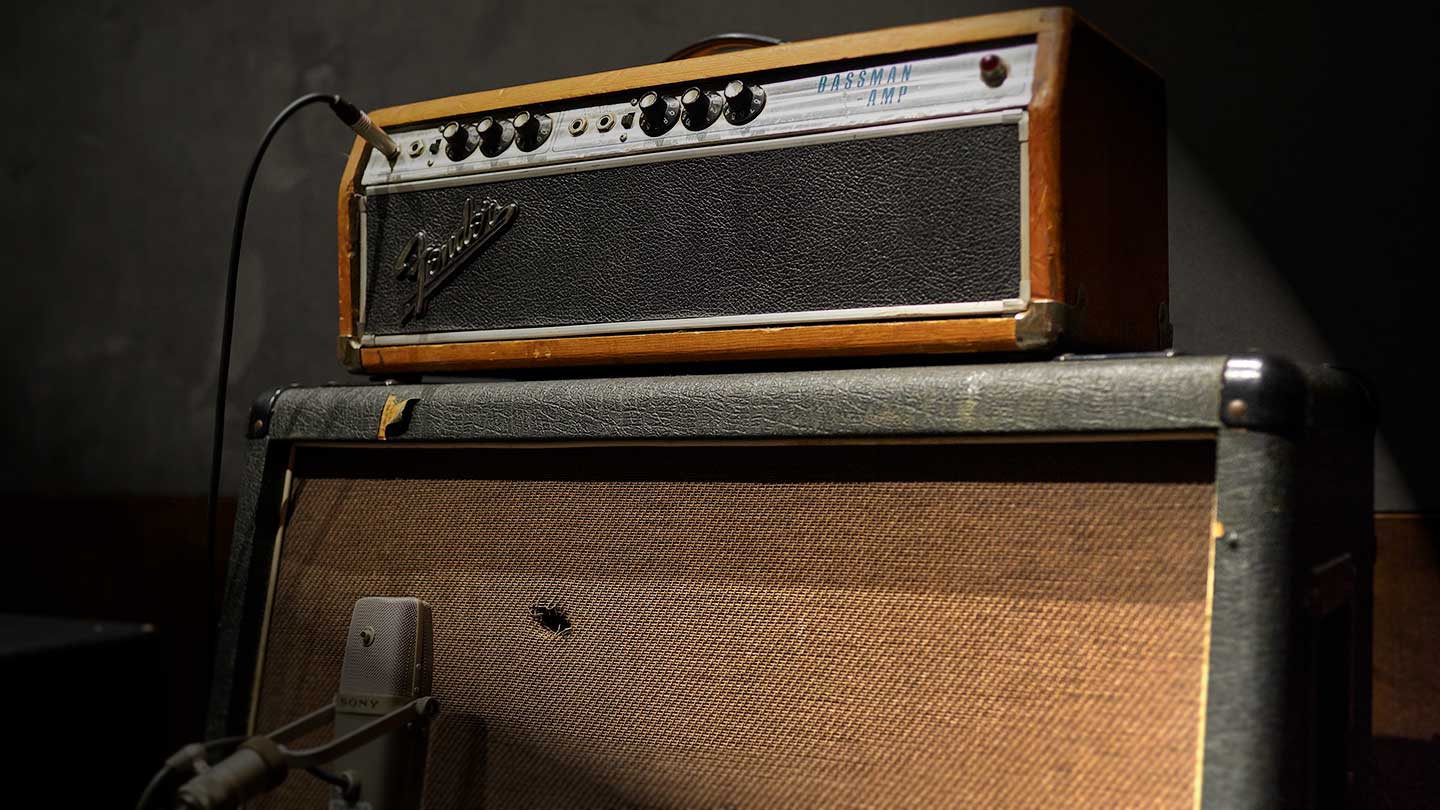 Behind the scenes
In the press
What people are saying about BASSYNTH…
"BASSYNTH is an absolute monster. Supremely powerful Bass instrument. Sounds amazing…"
"Wonderfully rich, dense and production-ready sound. The sounds are consistently excellent with a broad range of familiar and exotic-sounding patches…"
"Bass is where this instrument sets out its stall and it does so with confidence and authority!"
Modular effects
Insert effects on each layer, as sends or on the master output to create a polished and professional sound. Each Effect slot can be loaded with any one of 40 world-class effects algorithms; taking in EQ and filters; 4 types of algorithmic reverb and impulse responses; 6 delay types with 3 modes; 6 distortion / saturation types; transient shaping; compression; amp simulation, chorus, phasing, flanging and more.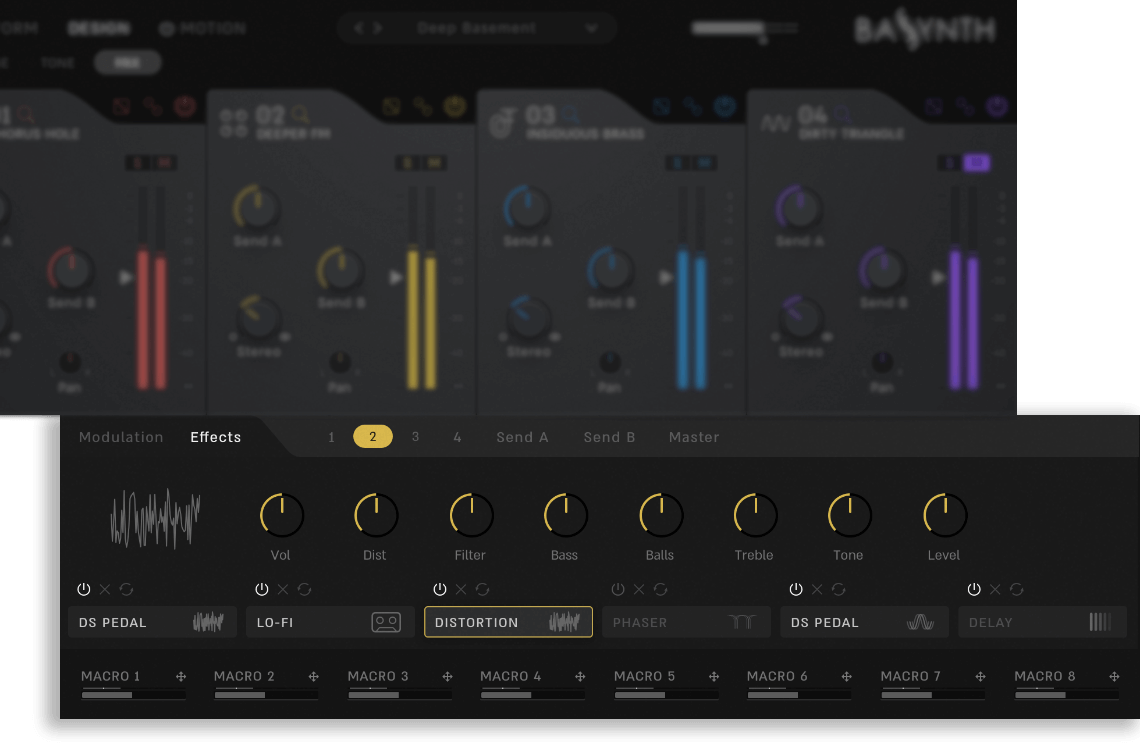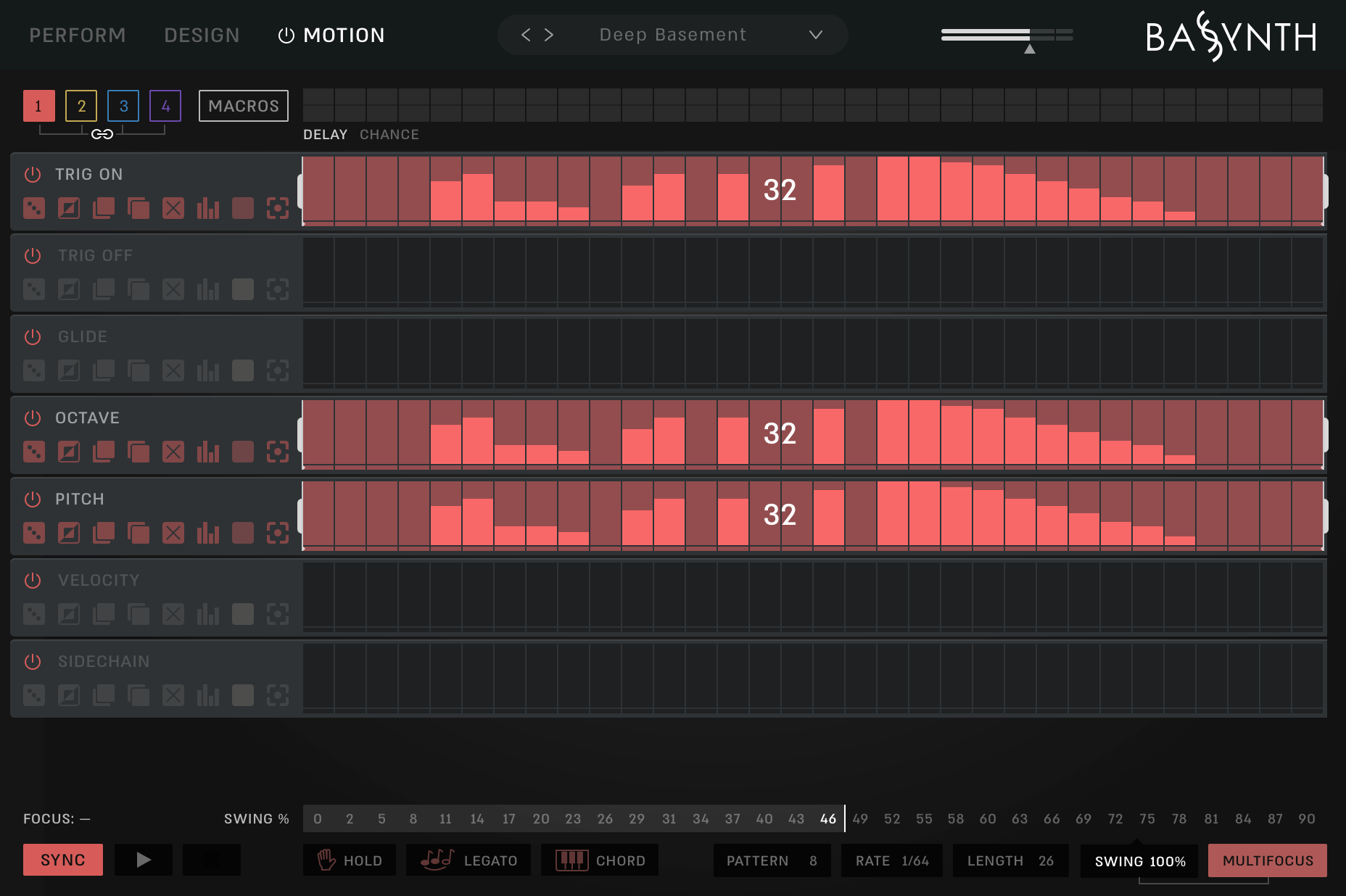 Motion & Macros
Map multiple parameters to one of 8 custom per patch macro controls via drag and drop assignment. Whether you want to create a single control to adjust the panning of all four voices in opposing directions or modulate two filters with their own unique ranges you can do this quickly and easily.
Each of those 8 macros can then be assigned to a master XY pad which can be controlled via a keyboard mod wheel or dedicated CC messages. Simply load a patch and turn your mod wheel to hear complex modulation involving dozens of parameter changes.
To take parameter movement even further use BASSYNTH's unique motion sequencer to apply per step modulation to any of the 8 macros. Each macro has its own dedicated sequence lane with a unique rate and length so you can create organic changes over time that will never repeat.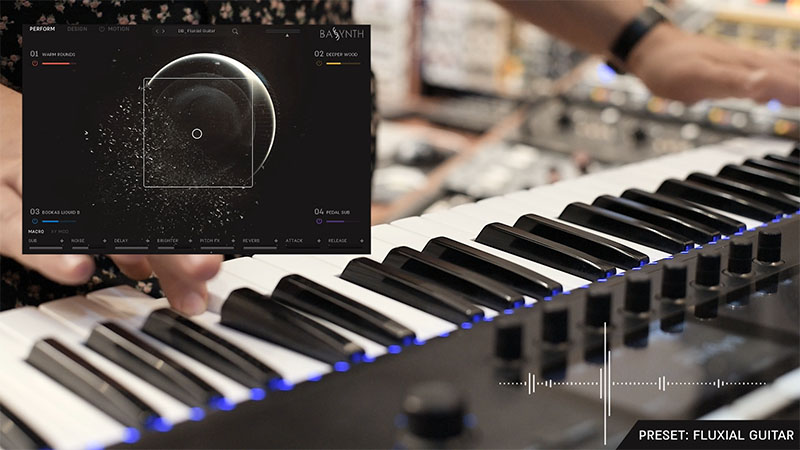 Presets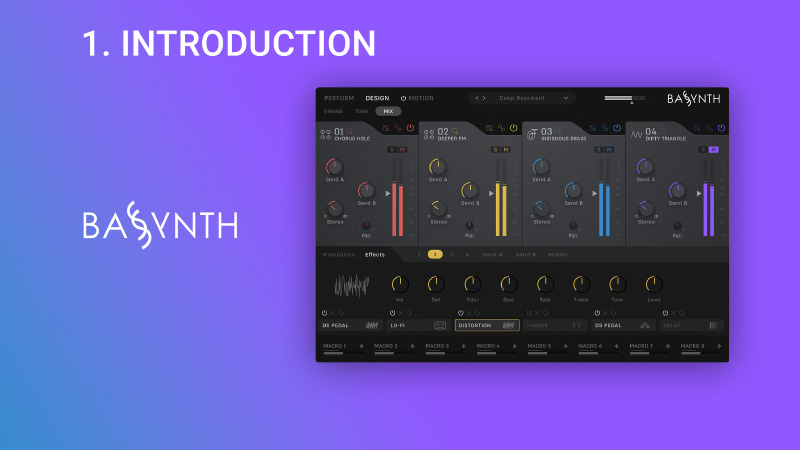 Intro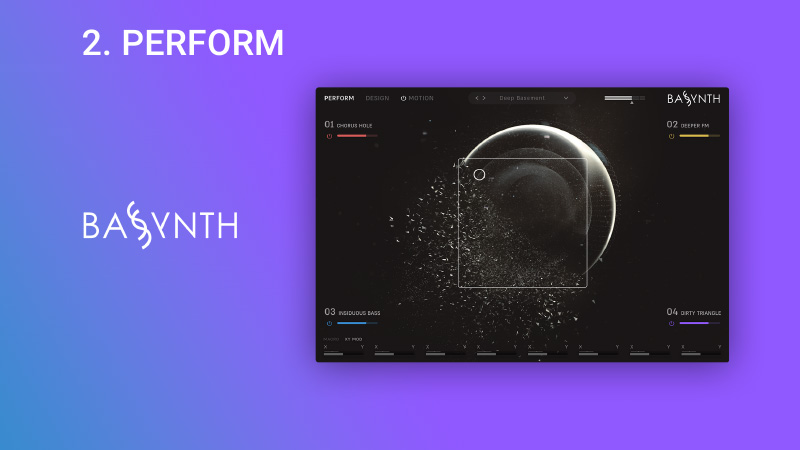 Perform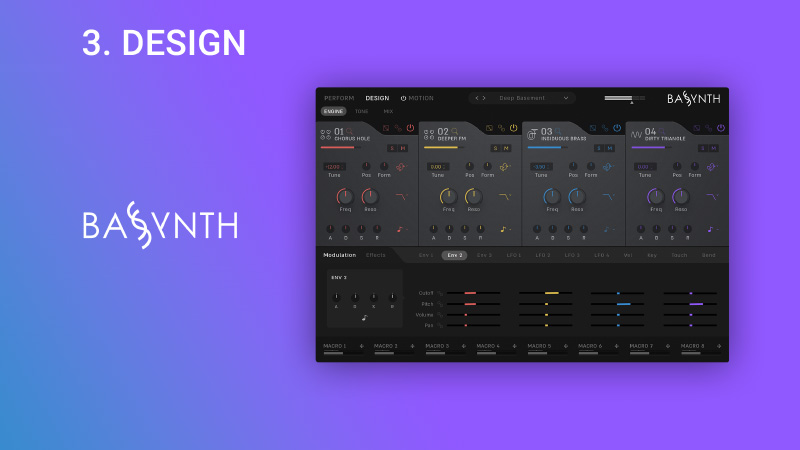 Design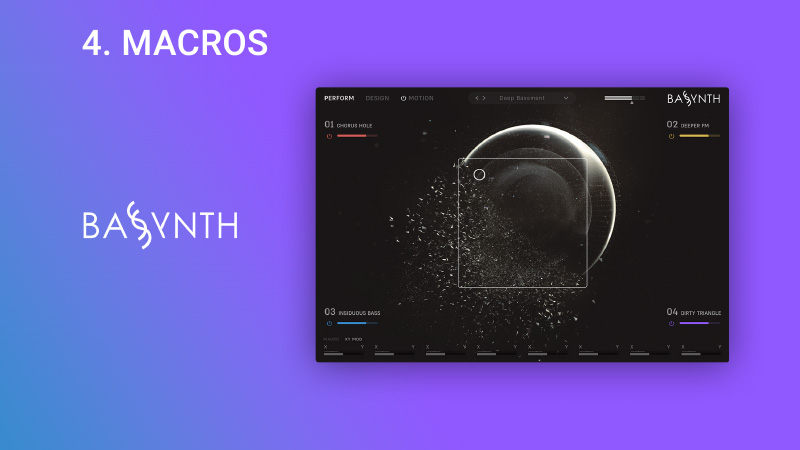 Macros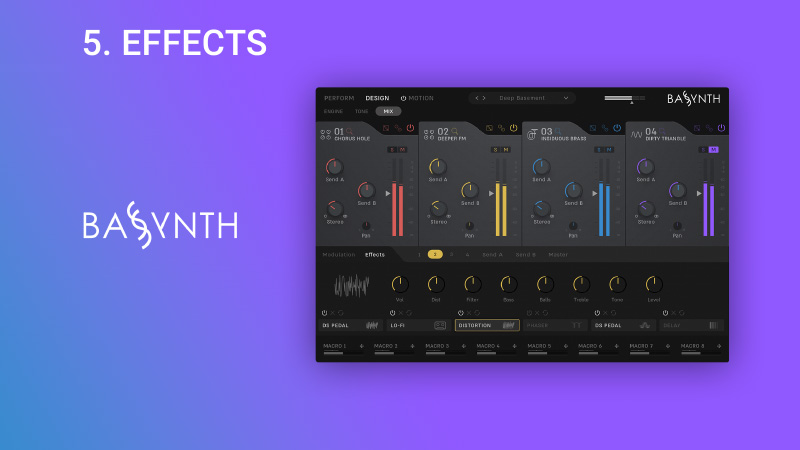 Effects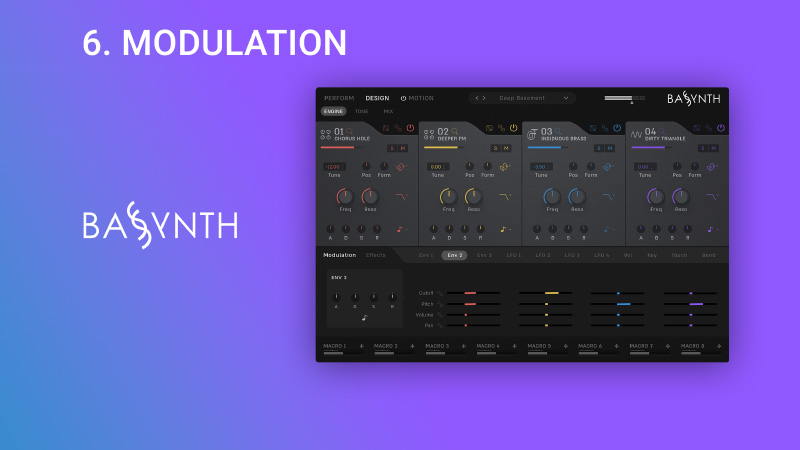 Modulation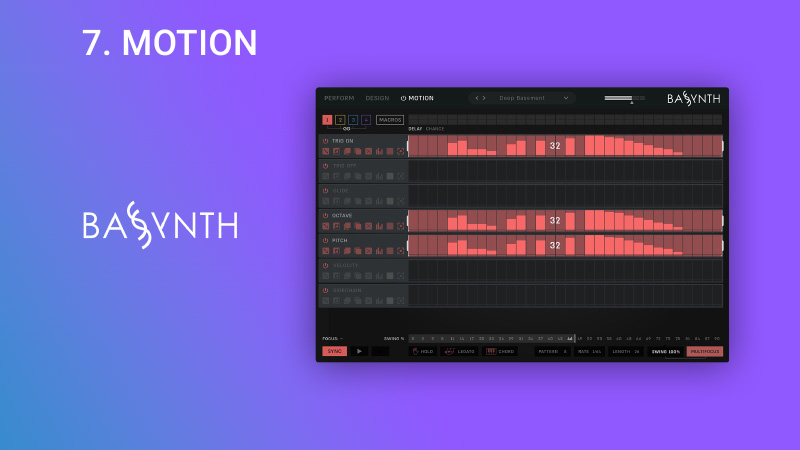 Motion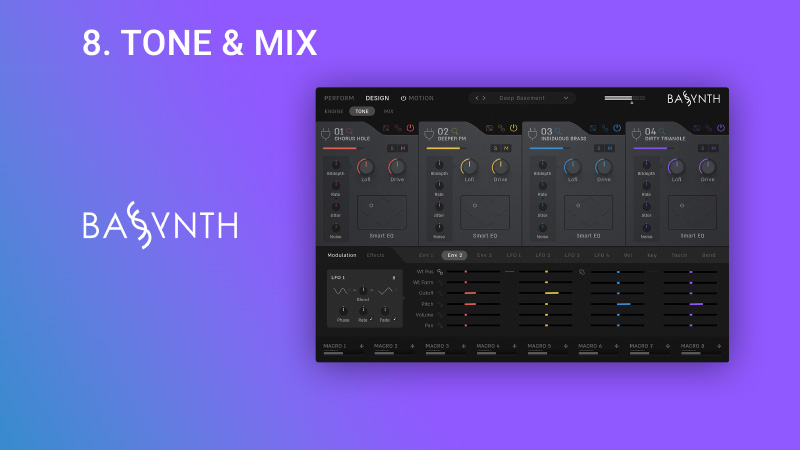 Tone
Available in Standalone, VST, AU and AAX formats. BASSYNTH is powered by FREE Kontakt Player from Native Instruments. Full version of Kontakt is NOT required
Forward-thinking, truly modern Bass Engine powered by a ground-breaking library of 800+ multi-sampled sound sources, oscillators, Foley & wavetables
290 beautifully crafted, forward-thinking presets covering all modern genres
Advanced Sound Design Engine for creating and layering ground-breaking, expressive bass patches and beyond
Filters, modulation, FX and all sound design parameters available per Voice
8 voices of Unison per Layer, with detune, stereo spread and wet/dry control
Blend and morph up to 64 parameters simultaneously with just a single knob turn using the impressive X+Y Pad
Dynamic sound source and preset browsers, with tagging and favourites
Wavetable engine with over 200 scannable wavetables and 14 warp modes
Powerful drag+drop Macros for performance and creative sound design
Expressive 32-step Motion Designer with unique, per lane length and rate
Polyrhythmic parameter Sequencing for evolving and complex modulation
Round Robins – Up to 8 round robins per sound source
Mono, legato and poly Voice modes, with glide
Creative Analog Slop controls simulate the random behaviour and character inherent of analogue instruments. Available per Voice
World class effects – Choose from over 40 FX and load up to 6 of them per individual Voice, on the master or via sends
Host automation for important parameters and Macros, plus MIDI CC control over any other parameter
NKS Ready – Total integration with Komplete keyboards and Maschine
Dedicated visual Mixer with individual volume control, pan, effects sends and stereo width for each Voice
11GB in size after unpacking
Mac
Supports Apple Silicon Macs (natively on ARM) on macOS 11 or newer
Supports Intel Macs (i5 or higher) on macOS 10.15 or newer
Runs in Kontakt (Free) Player
Windows
Supports Windows 10 or newer
Recommended minimum Intel Core i5 or equivalent CPU, 2 GB RAM
Runs in Kontakt (Free) Player